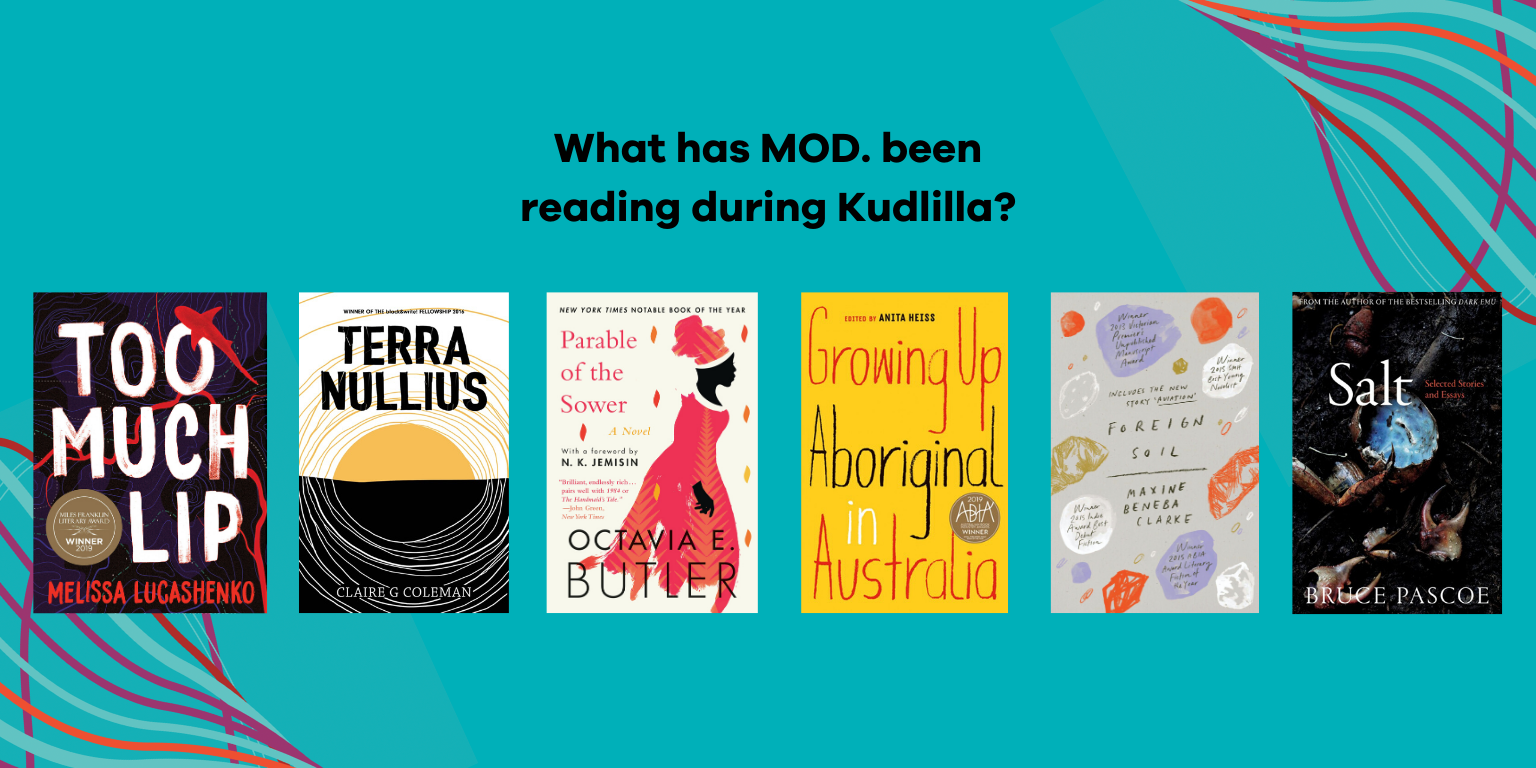 It's cold and rainy, a sign that the Kaurna season of Kudlilla has arrived. We're going to put out weekly lists of things to do while you're huddled inside. First off, books! If you're not sure where to start here are some of our favourite reads.
Kristin: My sister gave me Archie Roach's memoir Tell Me Why for Christmas last year and I read it immediately. Most known for his album Charcoal Lane, this memoir is an insight into the experience of being Stolen Generations, the musical story is awash with talent and it's a moving love story to his equally talented partner Ruby Hunter. 
Kristin: In the midst of the #BlackLivesMatter awareness on social media in early June, Readings bookshop in Melbourne published a great list of books to help understand and fight white supremacy. One of these was Growing Up Aborginal in Australia edited by Anita Heiss which had been on my list for a while. So that's what I've been reading recently, totally absorbed by its jagged-edge joys.
Natalie: I second this one! "Absorbed by it's jagged-edge joys" is the best way I can imagine describing it. It was tough in places, but absolutely so important for all white settlers to read.
Amie: I read this one when it came out. Fifty diverse voices enlightening and challenging readers to better understand what it means to be Aboriginal in Australia. An unhurried read that deserves the reader's full attention. It hit me right in my White privilege — cliched, but I can't think of another way to say it. So many experiences that I needed to absorb and integrate into my thinking.
Kristin: The other book I read over Christmas while staying at my sister's house was Too Much Lip by Melissa Lucashenko. Set in Bundjalung country, not far from where we were staying, it's a dark comedic tale of family, intergenerational trauma and colonialism, where the summer heat steams off each page.
Suzanne: Melissa Lucashenko is a Goorie author of Bundjalung and European heritage. Kerry arrives back in her hometown on a stolen Harley. Her father is dying and the complicated family politics are fighting to save their river. A  good-looking Dugai fella turns up only adds more trouble intent on loving her up only adds more trouble – but then trouble is Kerry's middle name.
Natalie: Girl, Woman, Other is not just one of my favourite reads from this year, but one of my highlights from the last few years. It follows twelve mostly black women living in modern Africa. It left me feeling a warm glow in my chest. 
Natalie: I am a huge fan of everything that Maxine Beneba Clarke has written, hearing her read poetry at Adelaide Writer's Week earlier this year was a festival highlight for me. The Hate Race is an excellent memoir of Maxine's life growing up as Jamaican-British migrants in Sydney's western suburbs. Foreign Soil is a beautiful short story collection that accurately depicts modern Australia through the eyes of migrants and refugees.
Becci: I second this one for a non-Aboriginal, Australian POC perspective. 
Kiah: Swallow the Air by Tara June Winch. It's a really early book written by TJW but it's kind of poetic, beautifully written, and there are many themes entwined in the story that really resonated with me particularly growing up. 
Suzanne: Many people also love The Yield.  A story of the Wiradjuri people and their campaigns. Interesting structure that includes a series of letters from an early missionary, A glossary of language. And timely for its portrayal of multiple forms of racism.
Amie: A quest by a fierce female protagonist and allies in a world of magic filled with racially-charged violence. A page turner ending with a cliff hanger. Can't wait for the next book and, presumably, the movie.
Salt and Dark Emu, both by Bruce Pascoe
Amie: Salt by Bruce Pascoe. Pascoe's love for Country—and anger and sorrow for the treatment of Indigenous Australia—bleeds from every essay. His fiction, in particular, was a revelation to me. Tender, observant, powerful. The cadence of writing suits it being read aloud, which I did. And of course, Dark Emu by Bruce Pascoe. A wildly important book that up ends what most non-Aboriginal Australians have been told about Indigenous Australia.
Suzanne: Strongly recommend Bruce Pascoe's Dark Emu. A wonderfully readable book which will change the way we see our country. Plus introduces enticing ideas about way societies can work drawn from Indigenous practices.
Amie: Terra Nullius is a familiar Australian story, but not quite as we know it. The book dramatically shifts, becoming an engrossing read, if somewhat heavy handed on the moral. A stunning and imaginative debut. I hope there is a sequel. (Avoid the reviews before reading.) The Old Lie is the eagerly awaited second novel by a fresh, new voice. A space opera, but with some very familiar themes of Indigenous history and experience. I love the way Coleman challenges our implicit biases too. A good read.
Becci: Octavia was the first sci-fi writer to win the MacArthur Genius award and the first African American woman to win the Nebula Award for best novel. Reading this at the start of the pandemic was difficult, but also deeply resonant. Octavia crafted a very believable future America, which is politically and socially polarised, economically and environmentally damaged, and full of characters desperate to survive. Not for the faint-hearted.
Natalie: I read this one a year or so ago, but it has stuck by me. Spanning seven generations, each chapter follows a descendant of an Asante woman called Maame and her two daughters, Effia who marries the British Governor responsible for the Cape Coast Castle and Esi, who is held in the dungeons below. Another excellent story of interwoven stories and the experiences of African diaspora.
***
Contributions to this edition of Kudlilla Recommendations by Kristin, Kiah, Natalie, and Becci from MOD., with special guests Suzanne Franzway, Emeritus Professor at UniSA Justice and Society, and Associate Professor Amie Albrecht, Dean of Programs (Science, Technology & Mathematics at UniSA STEM.