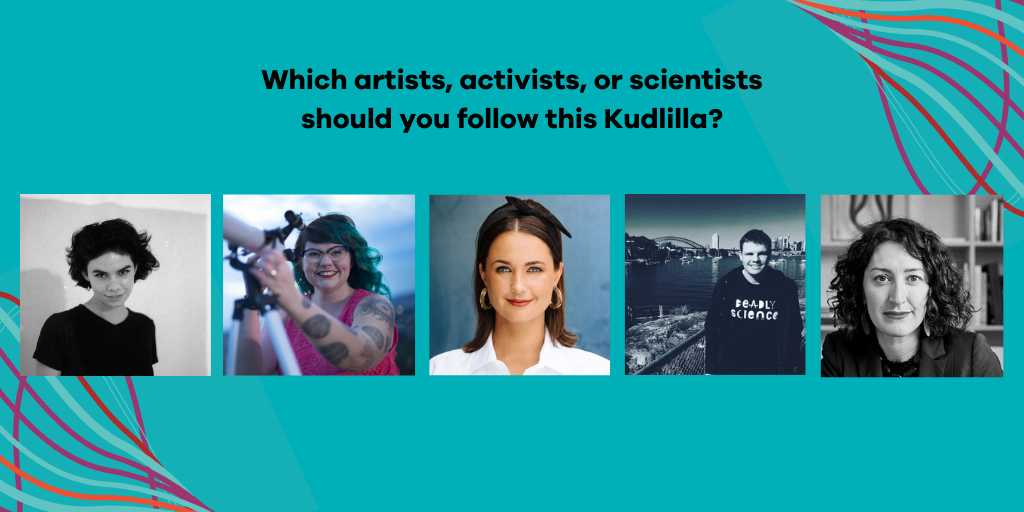 It's cold and rainy, a sign that the Kaurna season of Kudlilla has arrived. We're going to put out weekly lists of things to do while you're huddled inside.  If you are looking for new perspectives, here are some people we love.
An artist and activist out of Melbourne who was the former Prime Minister of the National Indigenous Youth Parliament. She is currently creating some great Instagram content to reflect on race in Australia.
Musician and activist, Neil is grounded in strong cultural values, his music is great and his message is important. 
Kirsten Banks is an Astrophysicist and science communicator well worth following on Twitter for her threads and occasional TikToks sharing her passion for the stars. 
Another astrophysicist who we follow to get an lovely insight into maths and stars. Great short video of her explaining her role here too.
Corey was a recent guest on MOD.TV and impressed us so much with his work on Deadly Science and his incredible science facts knowledge.
Researching Indigenous Knowledge Systems, Robotics, and Artificial Intelligence and co-founded the pioneering international Indigenous Protocols and Artificial Intelligence symposium (IPAI).
Letisha is a proud Gugada (Kokatha), Wirangu and Mirning woman  and Executive Producer of Balya Productions, a First Nations connector within South Australia for employment and mentor opportunities within Performing Arts & Events. A previous guest on MOD.TV, Letisha is passionate about building and elevating the representation of First Nations in the performance arts and events industry.
Rae Johnston is a multi-award-winning STEM journalist, Wiradjuri woman, mother, broadcaster, voice actor and MC. Rae was a Hybrid World a couple of years ago and we really enjoyed talking to her about games and digital tech.
An Aboriginal Mathematician and researcher who also chairs the ATSI Maths Alliance. Chris is a good follow for maths education insights.
A writer, actor, and activist that you may have seen anywhere from Q&A to Black Comedy.
Michelle designed the 'Department of Welcome' banners back in our previous exhibition Waging Peace, I have always been a huge fan and her work is beautiful.
Ness is an activists, law student and dedicated her life to fight injustices against Aboriginal people. She is an important young Aboriginal voice.
***
Contributions to this edition of Kudlilla Recommendations by Kristin, Kiah, Natalie, Lisa, and Dearna from the MOD. team.