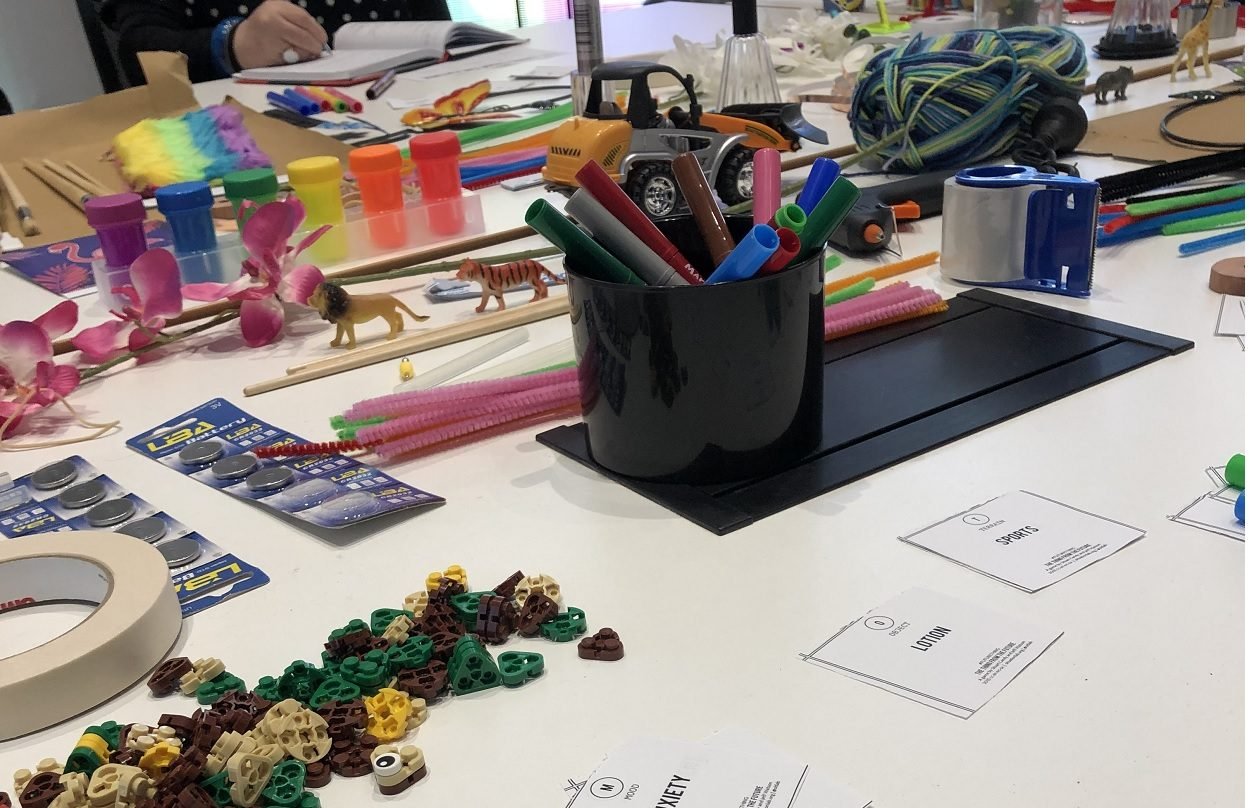 In a future of collapse, there is an implant relating to pets.
This is the type of prompt you might get when playing The Thing From the Future, a game of speculative design created by Stuart Candy at the Situation Lab.
It's hard for us to think about the future in abstract ways. These prompts, selected from a deck of cards, can help explore the different scenarios by encouraging the player to create their own artefacts from the future.  This is the process of speculative design, where you need not be bound by the limits of current technologies, materials or culture when coming up with a solution.
This was the game we played as part of a workshop run by US artist and technologist Ani Liu.  Ani's work Biophilic Fantasies in HEDONISM explores the pleasure we experience from surrounding ourselves in nature, and how we now are able to manufacture simulations and replications of nature, like the ever-increasing realness of plastic plants, to fill these needs.
In this workshop, the teachers, students and artists present were invited to create their own biophilic inventions of the future given a set of prompt cards from The Thing From the Future.  What kind of inventions could we prototype in a 2 hour workshop from the mixture of craft supplies, toys, plants and simple electronics on hand?  Ani gave us inspirational examples of artificially designed and printed Neo Fruit or genetically engineered plants that might produce lace like textiles for us.
Some of the workshop creations included:

A living plant monitor for the kitchen that would respond to human touch and allow communication between households
A monument for future tourists to experience the world of travel without needing to leave home, predicting that travel may no longer so easy to access in a future world. Here future tourists might be able to experience everything from the thrill of seeing a wild African animal on safari, to the mundane aspects of jostling for the best selfie position or hunting for the nearest toilet that form part of the travel experience.
A prosthetic inspired by arachnids for people living in a future world of scarce resources, a genetic mod to allow future humans to create their own useful tools like ropes and textiles by mimicking a spider silk gland organ.
A memory ball, the next generation of home-assistant that could replicate and project your most treasured family memories in an instant.
You can download a creative commons version of the game to play from Situation Lab here.