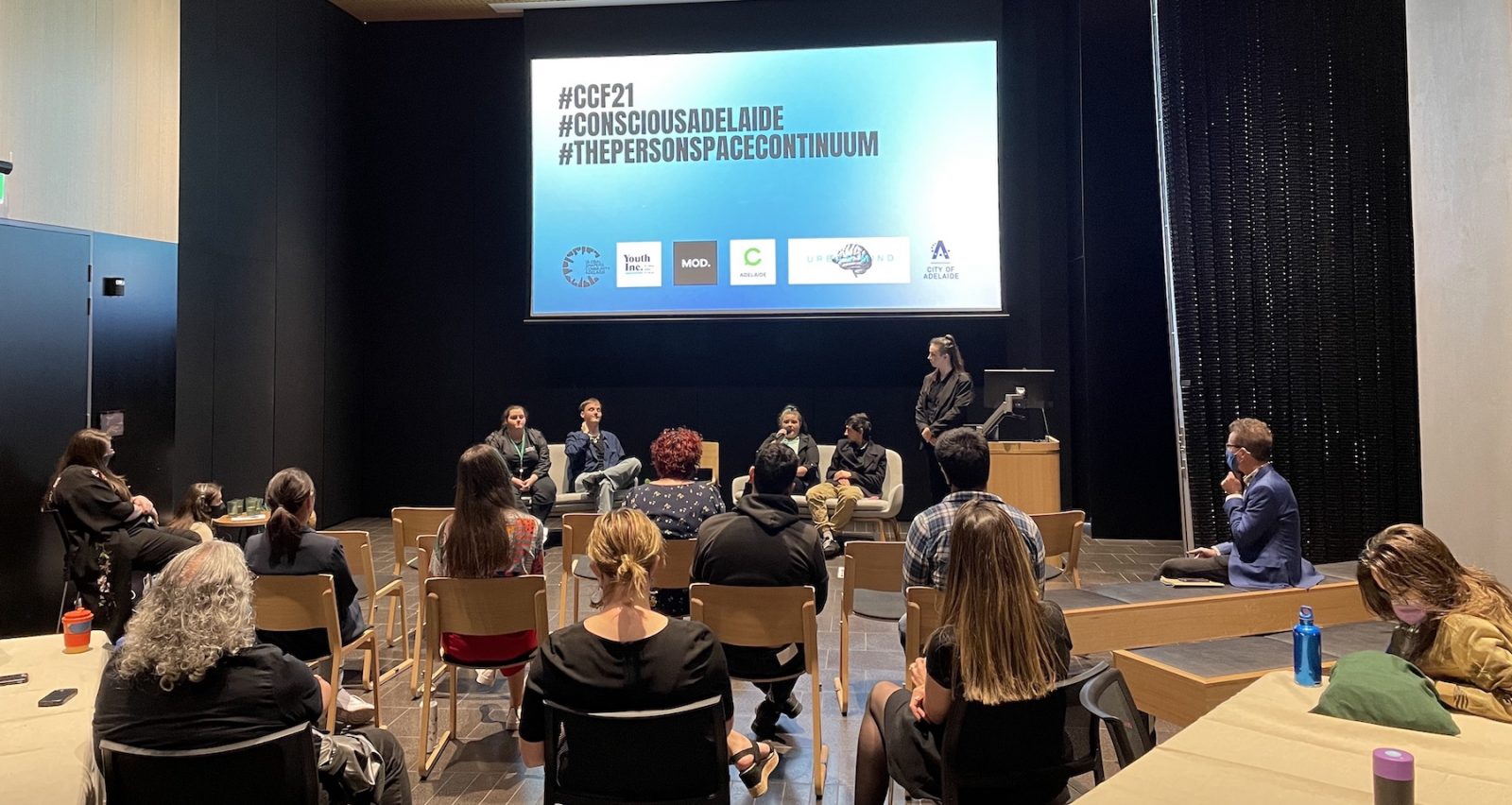 Conscious Cities Festival 2021 in Adelaide/Tarntanya
The Adelaide/Tarntanya Conscious Cities Festival is underway with a week's work of talks focused on the person-space continuum. Conscious Cities 2021 is led by Trish Hansen of Urban Mind Studio and Alex Bruhn and Michelle Howie and their colleagues from Global Shapers Adelaide Hub, a network of young professionals. To put the Festival into context we asked Trish a few questions.
More on the program below!
Q&A with Trish Hansen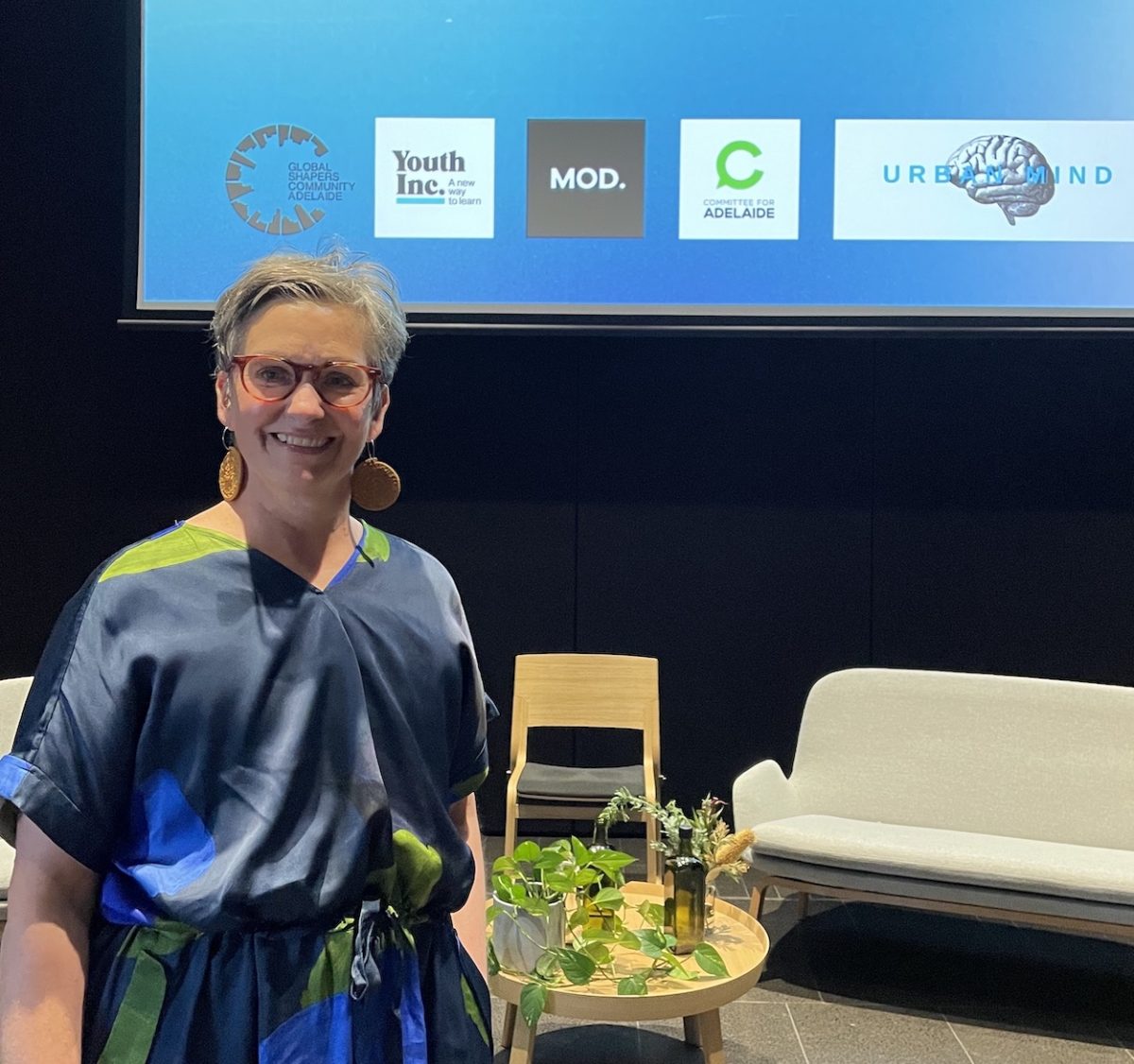 Can you tell us a bit about Conscious Cities?
About 8 years ago Itai Palti, an architect in Israel, started gathering like minded colleagues with an interest in the relationship between cities and neuroscience. This year 36 cities from across the world including Adelaide, will participate by holding events in late October. We'll explore what it is to be a conscious city.
Why do we need something like this?
All living creatures, including humans, need to make sense of the places they live to not only survive but thrive. For humans that's cultural. It's shaped by our hearts and minds; our values, intentions and behaviours that inform everything else. Why, what and how we do things; design, build, mine, manufacture, tolerate, protest, protect, care for, destroy, celebrate and grieve, defines us.
So we need to understand these things better.
Why host in Adelaide/Tarntanya?
Last year the Centre for Conscious Design invited cities from around the world to participate in a festival. Adelaide has a long history of thinking about and expressing itself and its place in the world in myriad ways, particularly the Festival of Ideas, as well as other festivals and our incredible arts.
Consciousness means to be aware – of oneself and our place in the world around us. This is important for cities too as it about knowing diverse ways of thinking and being.
Adelaide is an extraordinary and unique city – with plenty of value and goodness to share with others around the world as responsible global citizens, as we grapple big challenges together. Why Adelaide? Because anything is possible here.
This is the second year of the Festival – what were the outcomes from last year's program?
We are producing a video by Kaurna Elders sharing the values of this place with the support of the History Trust, published a zine about 'How might cities build Trust and Empathy?', published Adelaide's 100 questions (which has gone global this year) and provoked the City of Adelaide to explore the development of a safe space for young people to hang out, especially at night without it being about drugs or alcohol – which started with a conversation in Imprints Bookstore!
(Noting that sessions this year will result in podcasts and another zine to distribute the knowledge. The walk that was created with MOD. for last year's festival will take place again this year.)
What are your hopes for this year, and into the future?
Giving voice to Kaurna wisdom is again our priority – to learn from the traditional wisdom of this place Adelaide/ Tarntanya.
This year the Global Shapers Adelaide Hub have joined Urban Mind Studio to host the festival and this brings a focus on what matters to young people when shaping the future of our city. Next year we hope to welcome a diverse range of other partners to host their own events exploring the places we live.
How does a festival like this change the fabric of the city?
By expanding our awareness. The festival shifts our 'design conscience' and helps acknowledge and honour the intangible aspects of our city which shape us. It asks us to consider how our intentions, our work and our projects nourish the ecological and cultural essence of this place.
*****
Thanks to Trish and the Global Shapers Team: Alex Bruhn and Michelle Howie as Festival leads, Sophie-Min Thompson and Maddison O'Brien on logistics and promotion, Leon Cermak on speaker curation and Theodora Galanis for hosting along  with Amelia Pink , Bayan Yazdani and Suresan Rajandra who recorded the sessions for the Global Shapers Podcast.
Conscious Cities Festival Program
The 2021 program includes involvement with the Global Shapers Community Adelaide, YouthInc, MOD., Committee for Adelaide, the City of Adelaide and Urban Mind Studio. Interested in more? The program for this year's Festival includes several events as listed on the Festival Website, with 3 events relating to MOD. as follows:
Conscious Cities Adelaide: Deep Time, Youth Perspectives & Regen Adelaide
A series of short talks across the day to kick-off the Festival, starting with a Welcome to Country from Jack Buckskin and exploring deep time and connections to place, young people's perspectives and plans for Regen Adelaide.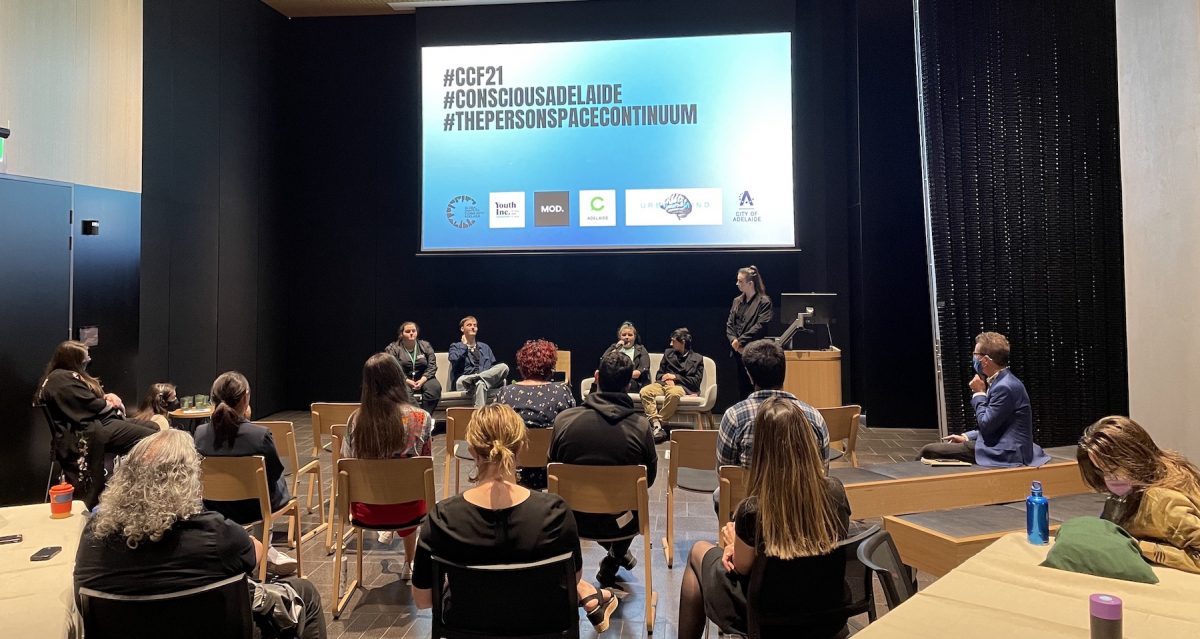 Reflecting on the first panel, Michelle Howie of Global Shapers said
"For me, as someone who has family in South Australia dating back to the colonisation of 1830s, I have never felt so connected with this place. The panels of the day, from Deep Time to Regen Adelaide allowed me to listen deeply to the history, present, and future of Adelaide as a complex and incredibly unique place in the world. I felt at the same time an insignificant speck in a timeline, but also incredibly empowered to make my short time and place count!"
It's Complicated – in conversation with the exhibition creators
An online zoom webinar with Exhibition Coordinator Dylan DeLosAngeles and myself, hosted by Trish, to explore how the current gallery exhibition IT'S COMPLICATED relates to ideas of place. And especially why we were keen to explore complex systems.
What do you notice about this place?
This exploratory tour helps you explore the rich dialogue between people and place, and the ways in which one shapes the other. Originally developed for Conscious Cities 2020, the walk was also held for the Nature Festival. Moderator Hen Vaughan is back to guide you again. Click here to book a ticket ($20/$15 concession).