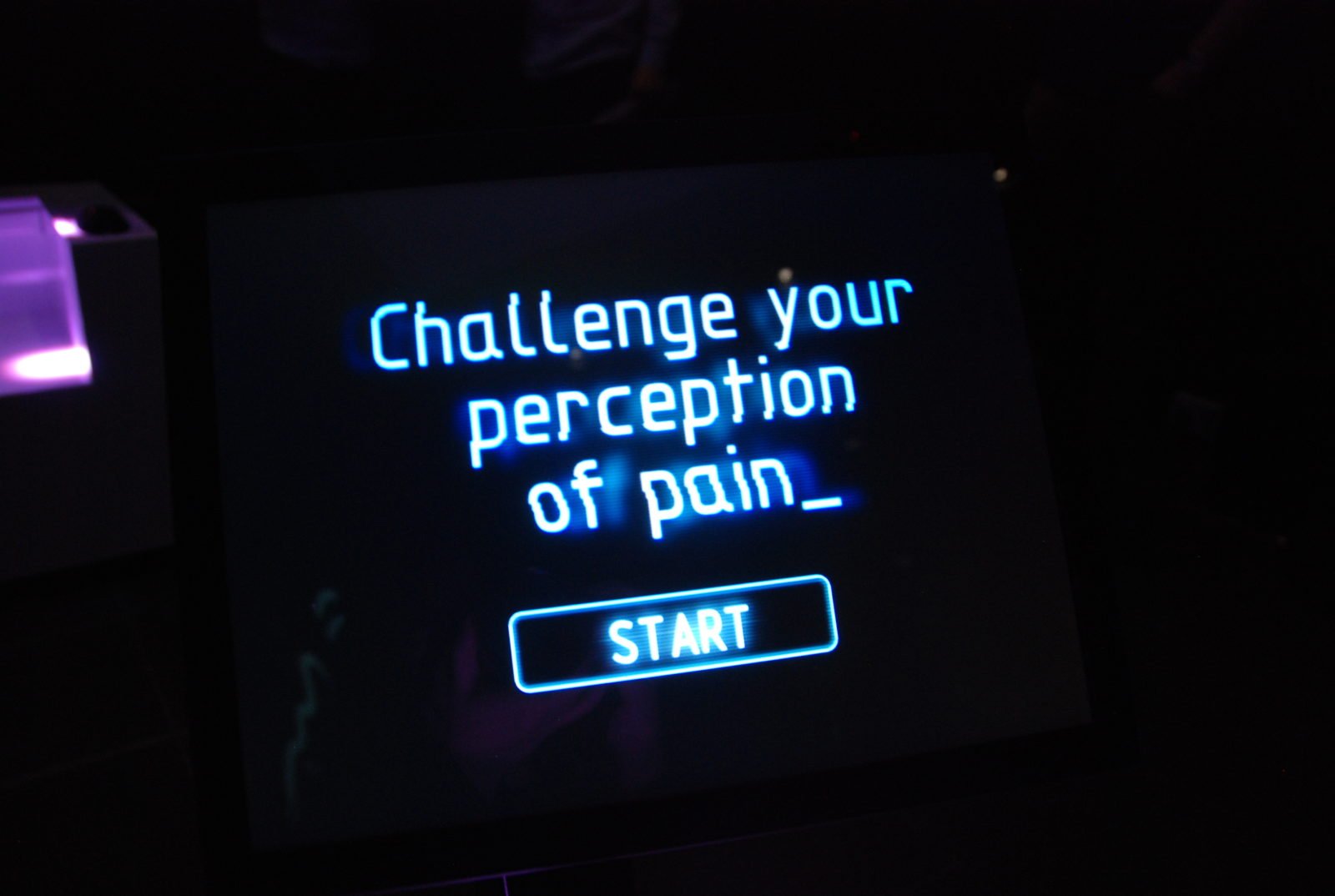 You might notice a black MOD. shipping container getting around town. If you're game, go inside and sit in one of the large metal chairs. You'll be guided through a series of tasks and given mild electrical shocks which cause discomfort, and even pain. Why? To challenge your perception of pain and explore how pain is a complex emotional and sensory experience influenced by factors such as attention, distraction, context and expectation. Ultimately, pain perception doesn't necessarily correlate with the severity of an injury. You then have the option of drawing your pain (past or present, physical or emotional) while you listen to personal stories from researchers Assoc. Prof Tasha Stanton and Professor Lorimer Moseley.
You may remember Lorimer and Tash from our inaugural MOD.IFY exhibition in 2018. Who could forget Lorimer's snake story?! (if you haven't seen it, it's the one with three quarters of a million views). We started collaborating with University of South Australia's Body In Mind research group on the Feeling Human exhibit almost a year before MOD. opened. The resulting gallery was an ominous space punctuated by two pain chairs, dramatically spot-lit beneath long columns of light.
The gallery also featured Lorimer's snake story as a three-dimensional animation on a VoxieBox, gratefully supported by Voxon Photonics.
As it turns out, trying to design something that safely causes pain to members of the public was not an easy process. It required research ranging from electric fences and lasers to "spider boxes" and swear rooms. We even tested toy games that shocked the losing player. Over time, and a whole bunch of risk assessments, we refined our designs to reflect the published research and highlight key factors that influence pain perception.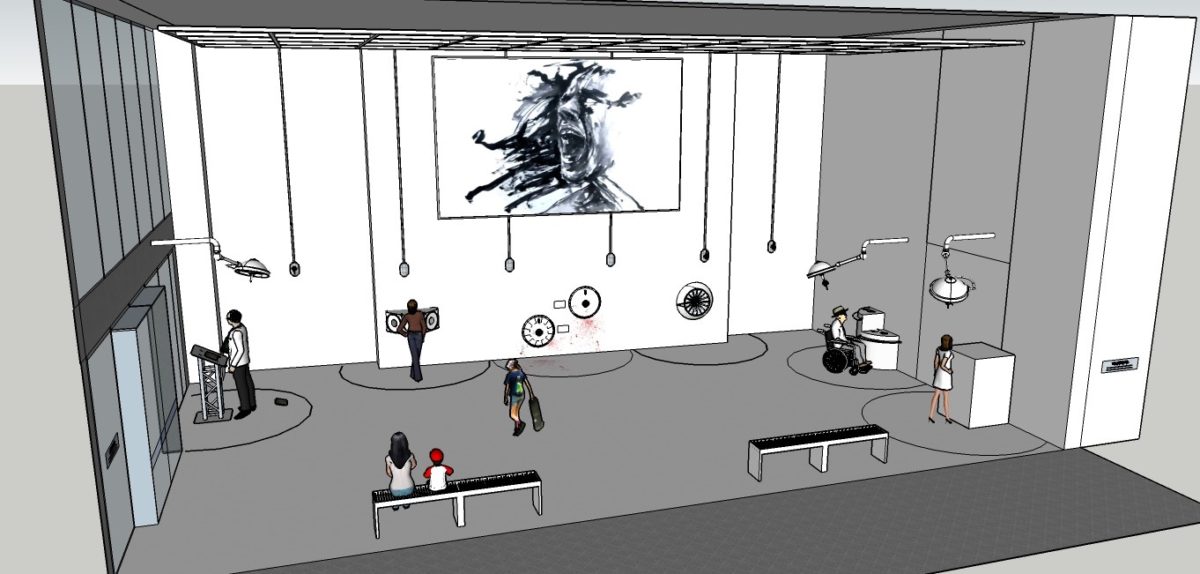 In an age when it is increasingly easy to be exposed to bad ideas, including ones we haven't been inoculated against, the value of public conversations around science is greater than ever. Conversations which don't just reel-off facts but engage minds and provoke thought. When I think of scientists who do this, I think of people like Tasha and Lorimer—passionate, unassuming, and public-spirited. Their collaboration was critical to making Feeling Human a success, with 54,530 visitors experiencing the exhibit. Surveys and visitor observation during Feeling Human revealed that visitors spent time at interactive exhibits and rated them highly in terms of enjoyment and learning.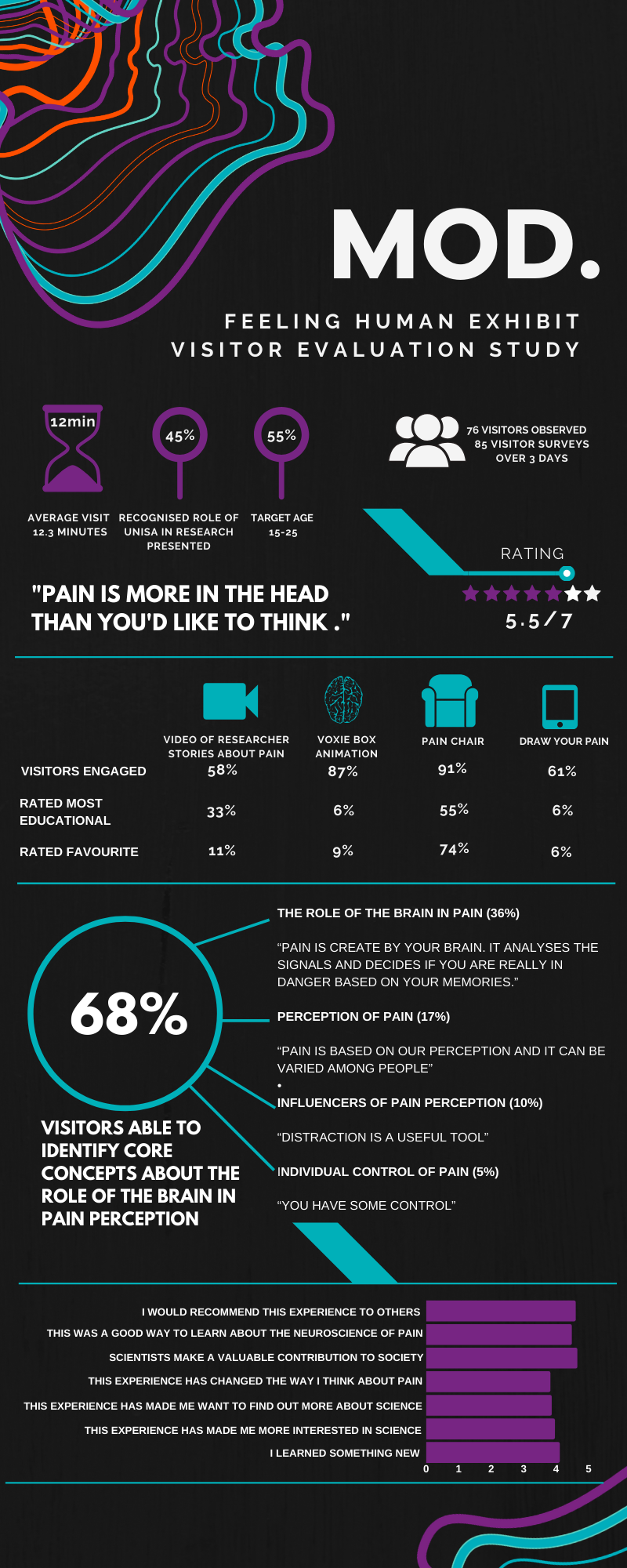 The interactive gallery design also led to two thirds of visitors being able to identify key concepts that we wanted to communicate about the brain and its role in pain perception.
Feeling human has now been adapted to be exhibited as a portable pop-up exhibit. Keep an eye out at WOMAD this year, we now have two shipping containers!