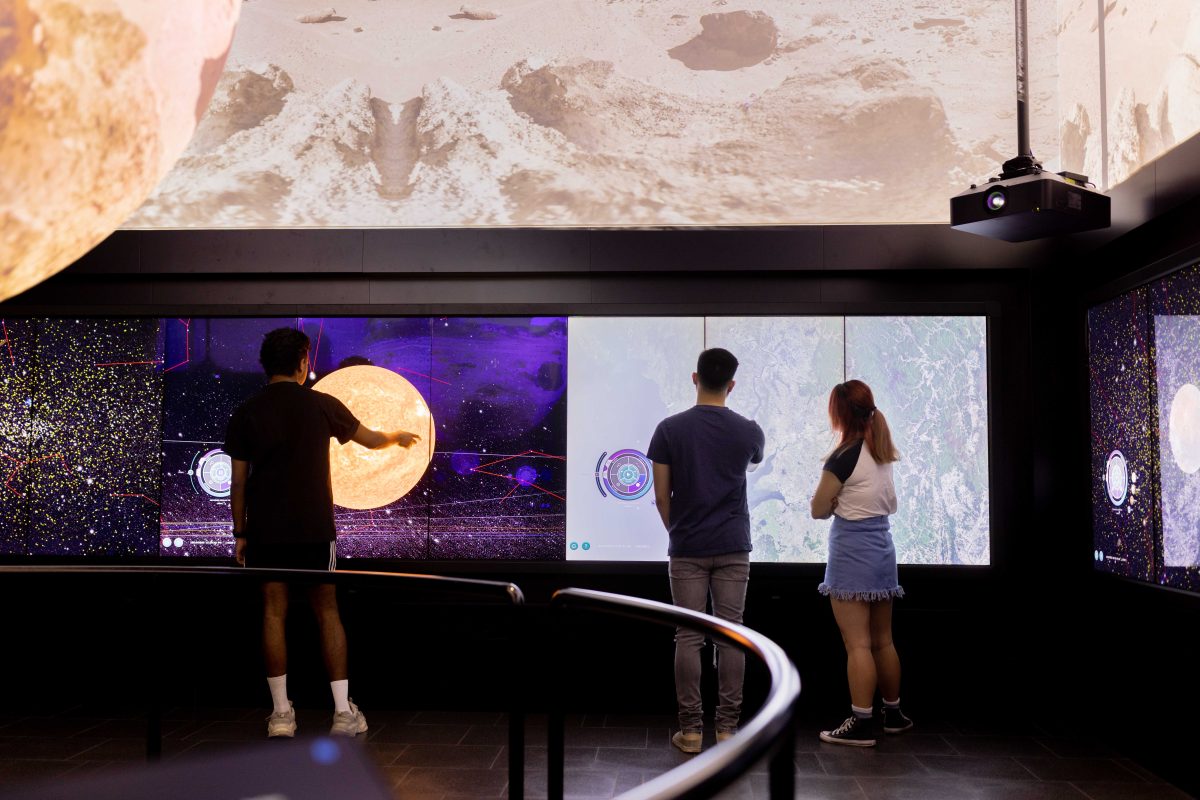 Schools and other groups are welcome to come and explore our gallery spaces. While MOD. is open to visitors of all ages, our exhibitions are designed for 15-25 year olds. If you plan to bring primary school aged children, teachers are encouraged to visit MOD. beforehand.
We recommend allowing at least an hour for your visit. Please note that MOD. has no bag storage facilities.
If you are bringing a group to visit, please fill out the enquiry form below at least 2 weeks before your visit.
Visit

Self-guided visit

All school groups are welcome to explore MOD. We can usually accept large groups depending on other bookings at the same time. However, please note that if you're visiting with more than 30 people you will need to split up during your visit.

Guided Tour

Moderated tour experience

We can provide a tour guide to show your school group through each of the spaces to delve deeper into each exhibit.

We limit these tours to 30 people. If your group is larger than 30 people you will need to book an additional tour guide.

1 hour fee: $220 (incl. GST)

Cancellation Policy: Once your tour is booked and invoiced, a minimum of 48 hours notice is required if you need to cancel your booking.

Navigating the Future

Presentation

Navigating the Future is a one-hour presentation by MOD. Director and futurist Dr Kristin Alford teasing apart the critical skills and competencies that are required for young people to take advantage of opportunities posed by shifting work futures. By linking back to the various exhibits within MOD. Kristin explains why these competencies are required and how MOD. is exploring these ideas with our young adult audience.

Who is it for?

Navigating the Future is suitable for teachers, parents and secondary school students in years 10-12.

What does it involve?

The presentation is around 40 mins with 20 mins allocated for questions.

Dr Kristin Alford is available to provide the presentation in person within 30 mins travel time from MOD. or via Zoom.

Locations more than 30 mins from the city are possible but may incur additional costs for travel time.

How much does it cost?

The cost of the presentation is $440 (incl. GST).

Cancellation Policy: Once the presentation is booked and invoiced, a minimum of 48 hours notice is required if you need to cancel.

How do I book a presentation visit or Zoom?

Please email MOD. with your preferred date and time and we can confirm around Kristin's availability.

Work Experience

Work placement opportunities

MOD. is offering online and in-person work experience opportunities for secondary school students. Applications are now open for a choice of three placements across the end of term 2.

Learn more and apply here.

Schools Design Challenge

Educational engagement

How might we overcome limits so that humans can thrive in the next 50 years?
Join our schools design challenge and utilise design thinking to create a speculative design with the chance to have your students' work displayed at MOD. You can view the design challenge teacher resource kit here.

Resources

Pre- and post-visit resources

Before you visit

Here are some documents that might help you and your students in preparing for a visit:

Teacher's Guide — which contains the exhibition text, as well as some links to resources that we recommend. You can use these to add contextual information for students before (or after) your visit.

Social story — which has images and explanation running through a visit to the museum. This may be useful for those with Autism Spectrum Disorder or to prepare younger students before a visit.

Professional development — join us and fellow teachers for a professional development program. These workshops provide you with an interactive tour and assorted workshop activities to support you and your class to get the most our of your visit to MOD.

UniSA experiences — explore a range of UniSA workshops, presentations, tours and activities to inspire, inform, and help students on their study and career journey. Offered on campus, in school and at regional locations.
Also in 'Visit'