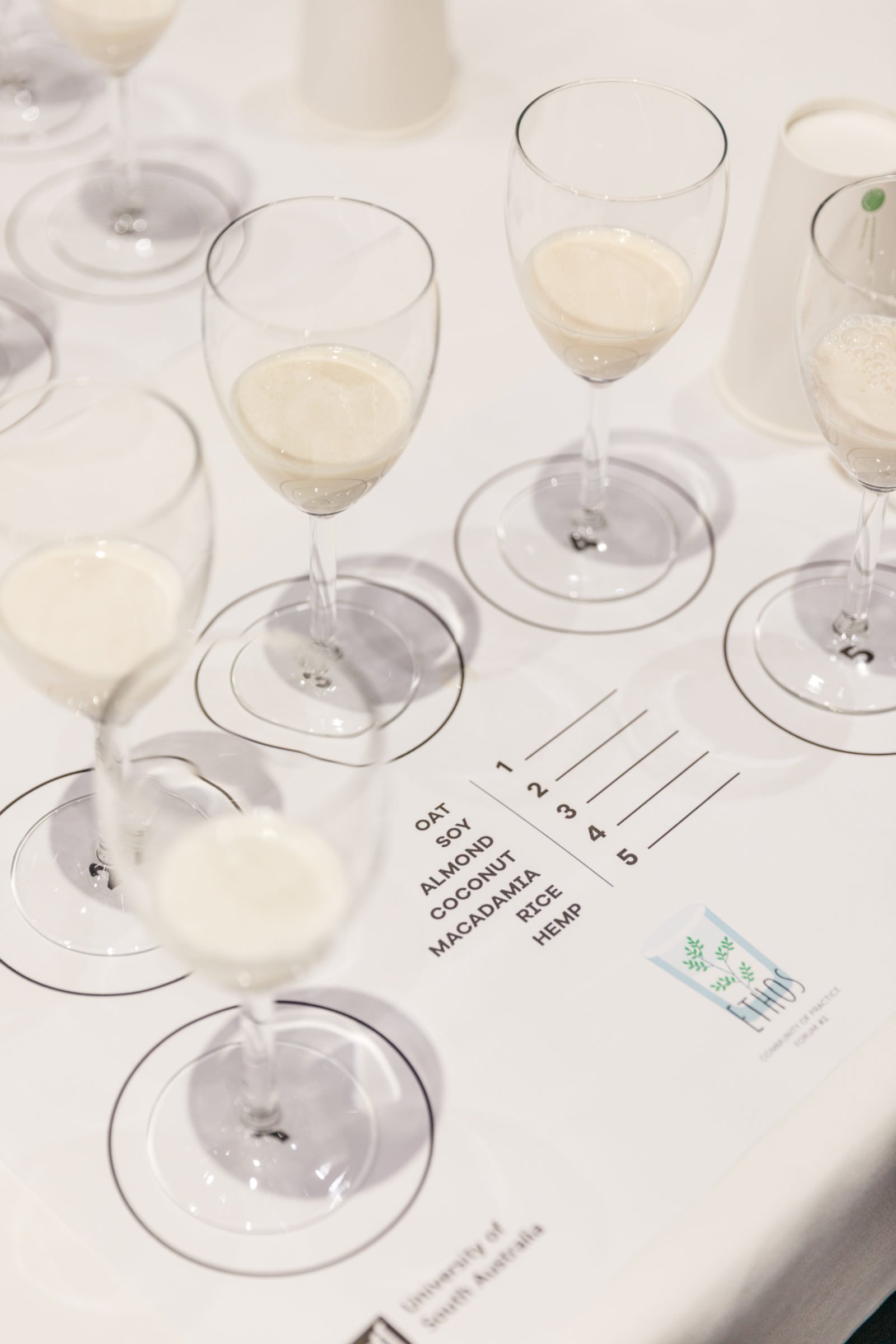 Ethos: The ethics of plant-based milks
MOD. hosted its August Ethos Community of Practice, an endeavour that looks at the ethics of technology and research – in this the ethics of plant-based milks – and fosters a culture of ethical questioning amongst researchers and the public.
This forum looked at the ethics of plant-based milks as a starting point to explore future-focused questions on social issues, research, and technological development. Mark Kamleh from Wine Country began the evening with a 'blind tasting' of macadamia, almond, soy, coconut, and oat milks. Participants then discussed how these ethical questions could broadly apply to their work and lives, aided by a panel discussion between Dr. Kristin Alford (Director of MOD.), Assoc Professor Anne Souvertjis (UniSA Business), and Professor Alison Coates (UniSA Allied Health & Human Performance).
Ethics and the complexity of choice for the everyday person
How does someone with limited time to analyse information make decisions on plant-based milks? 
Anne noted that, surprisingly, "90% of people who buy plant-based milks also buy dairy", so it is simplistic to assume that the choice between plant-based milks and dairy is a binary one. Consumers have many factors to consider with limited time; from nutrition, animal ethics and environmental sustainability to whether the milk remains stable under heat and how it tastes in coffee. 
Anne said that ultimately, "people seek to solve a problem" when they buy milk and will usually buy a range of brands and types that will solve that problem. For example, Kristin remarked that she wants "an ethical way forward" where environmental sustainability and animal ethics are improved, but she can still eat good quality "triple cream brie", potentially with a plant-based substitute.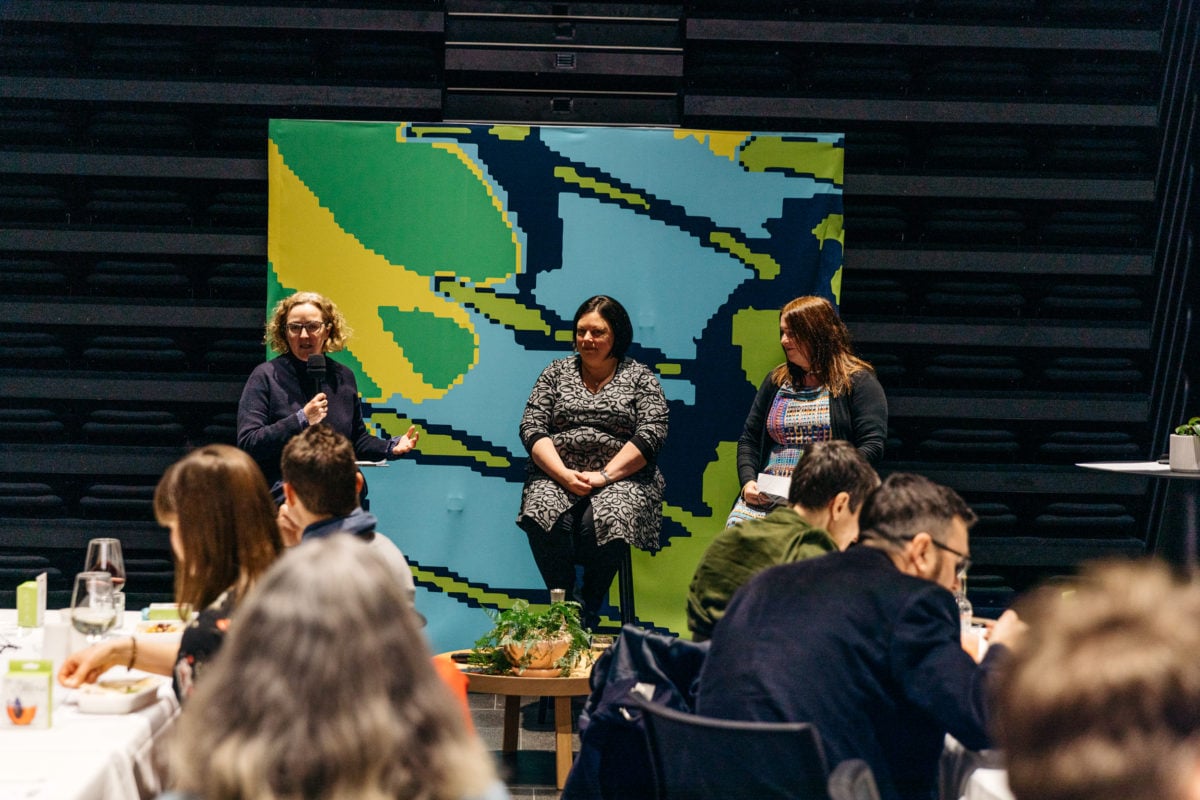 Milk, environmental sustainability, and technological solutions
Environmental sustainability was a significant factor for many participants when making the choice of which milk to buy. We noted that dairy has significant environmental impacts, from cattle methane emissions' impact on climate change, to the sheer amount of land clearing required to keep and feed livestock compared to plant-based alternatives. On the other hand, both dairy and almond milk require vast amounts of water to produce, which is particularly pertinent in a water scarce country like Australia. 
Discussions touched on the emerging technology of lab-grown milks, which involves synthetically reproducing proteins in dairy to produce an imitation of cow's milk. Although in the early stages of development, this has the potential to significantly reduce land use and alleviate concerns over animal welfare. There was also discussion on how genetic modification and/or selective breeding technologies might result in less water-dependent almond trees, improving its environmental viability.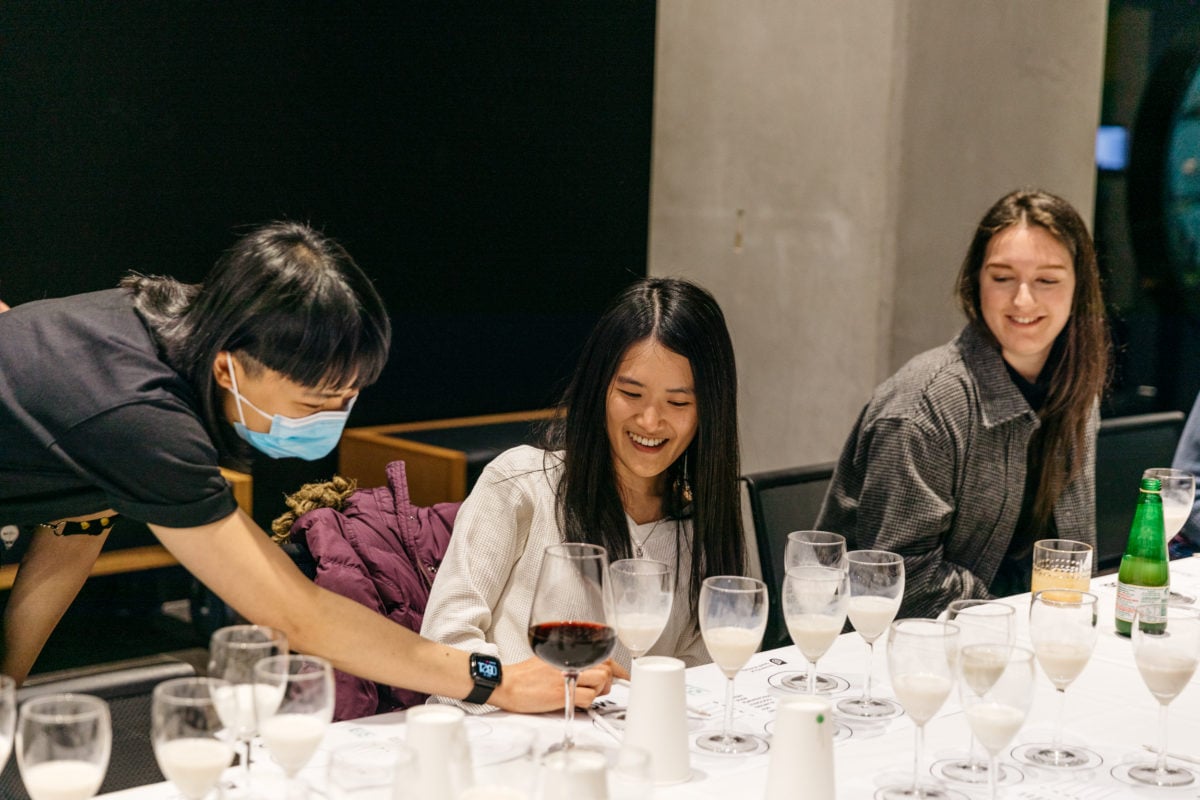 Globalised choice and its localised impacts
We live in a global economy that allows us to choose from a wide variety of plant-based milks. But what impacts do these choices have on local markets and regions?
One example is the impact on employment in different regions. We noted that 80% of almond supply comes from California, with Australia the second largest producer at 8%. This means choosing almond milk will likely support employment in those regions, rather than regions that produce other milks. A global supply chain also means that our choices may have ethical ramifications regarding working conditions and even modern slavery. It is important to think through if farming and operations are in countries without strong regulation and transparency.
Another discussion point addressed the impacts on people in the country of origin, especially in smaller countries. For example, a hypothetical global surge in demand for iced coconut lattes may mean that the price of coconuts rises. The impact might mean that this basic food commodity becomes out of the reach of people from local coconut regions.
Holistic approach to ethical decision-making in complex systems
The discussions around plant-based milk choices highlighted the many interrelated factors of ethical decision-making in a worldwide context. For instance, one participant said they made changes to what they eat to be more environmentally sustainable. They chose oat milk because its production is more environmentally friendly than most alternative milks. Later they discovered that their oat milk was made in the UK.  This meant the increased energy consumption from transporting it around the world "undid any environmental good that I was trying to do". While this milk is now made in Australia, this highlights the interconnected variables to consider when trying to shop ethically.
Further reading
The Ethos Community of Practice is made possible with funding through the Deputy Vice-Chancellor of Research and Enterprise. The previous Ethos forum investigated the ethics of the iphone. We hold Ethos events regularly at MOD. Check out our events page for more details!
Samuel Wearne was the rapporteur for this forum and is a moderator at MOD.