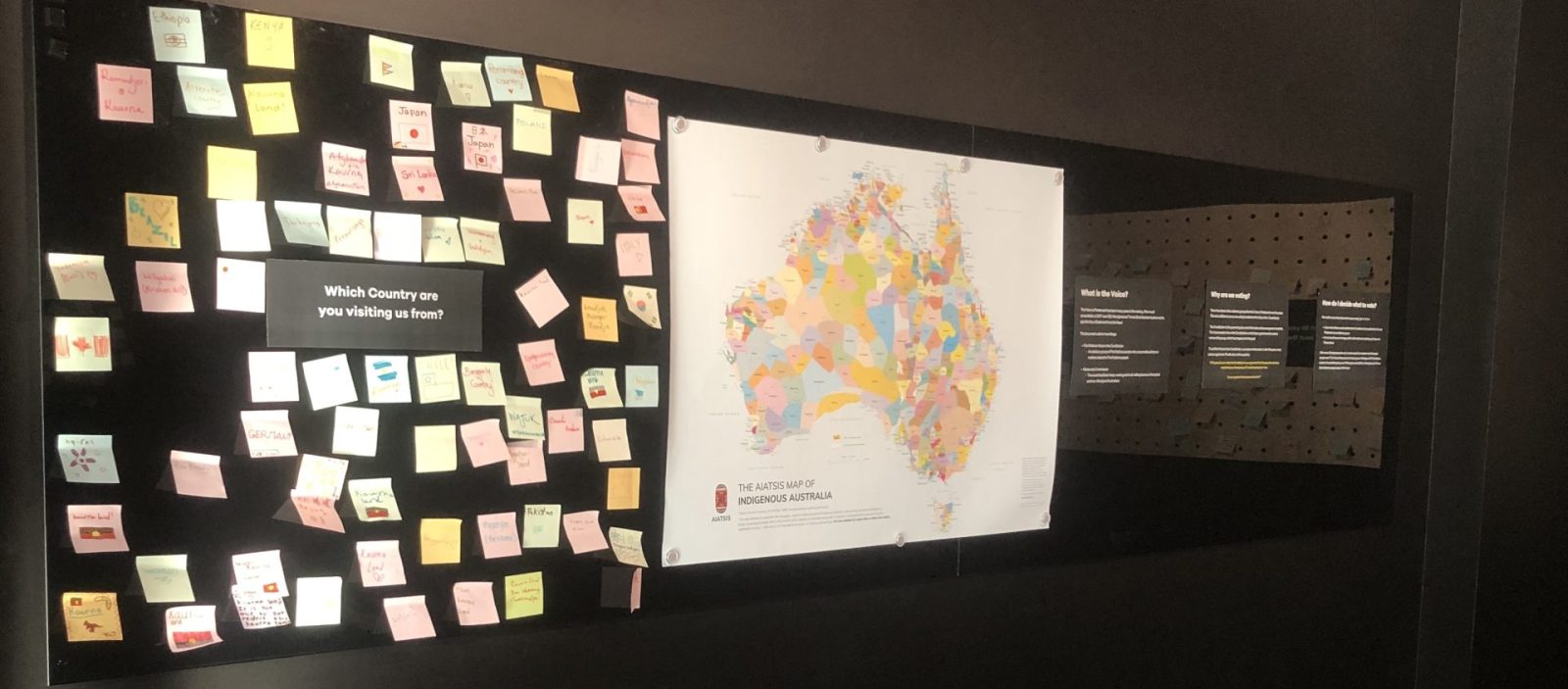 As you might have seen, for the last few months we have been encouraging our visitors to ask questions about the upcoming Voice to Parliament referendum. Our temporary exhibition in our Open Lab has engaged thousands of visitors, but we wanted to know how helpful we have been. What did people learn? Had we actually helped people to better navigate the misinformation surrounding the referendum?
Our impact, in words
We use lots of different methods to talk to our visitors, but our preferred channel in the Open Lab is Post-it notes. Over the course of the exhibit, thousands of visitors left thousands of pastel coloured pieces of paper explaining their thoughts, questions, and feelings about the upcoming referendum. These Post-its give us an idea of who our visitors are, what's important to them, and where they're visiting from. For example, we were blown away by the many different places from which people were visiting us.
At the beginning of the gallery, we displayed the AIATSIS map of Indigenous Australia and asked "Which Country are you visiting from?" The majority of people responded with the name of the Aboriginal Country from which they were visiting, including many people from Kaurna, Banggarla, and Ngadjuri lands. But these people only made up about one third of the visitors, there were many more visitors from around the world, including places like New Zealand, Zimbabwe and Japan. We loved seeing when people were from the lands of other Indigenous people, like Aotearoa or the lands of the Sámi.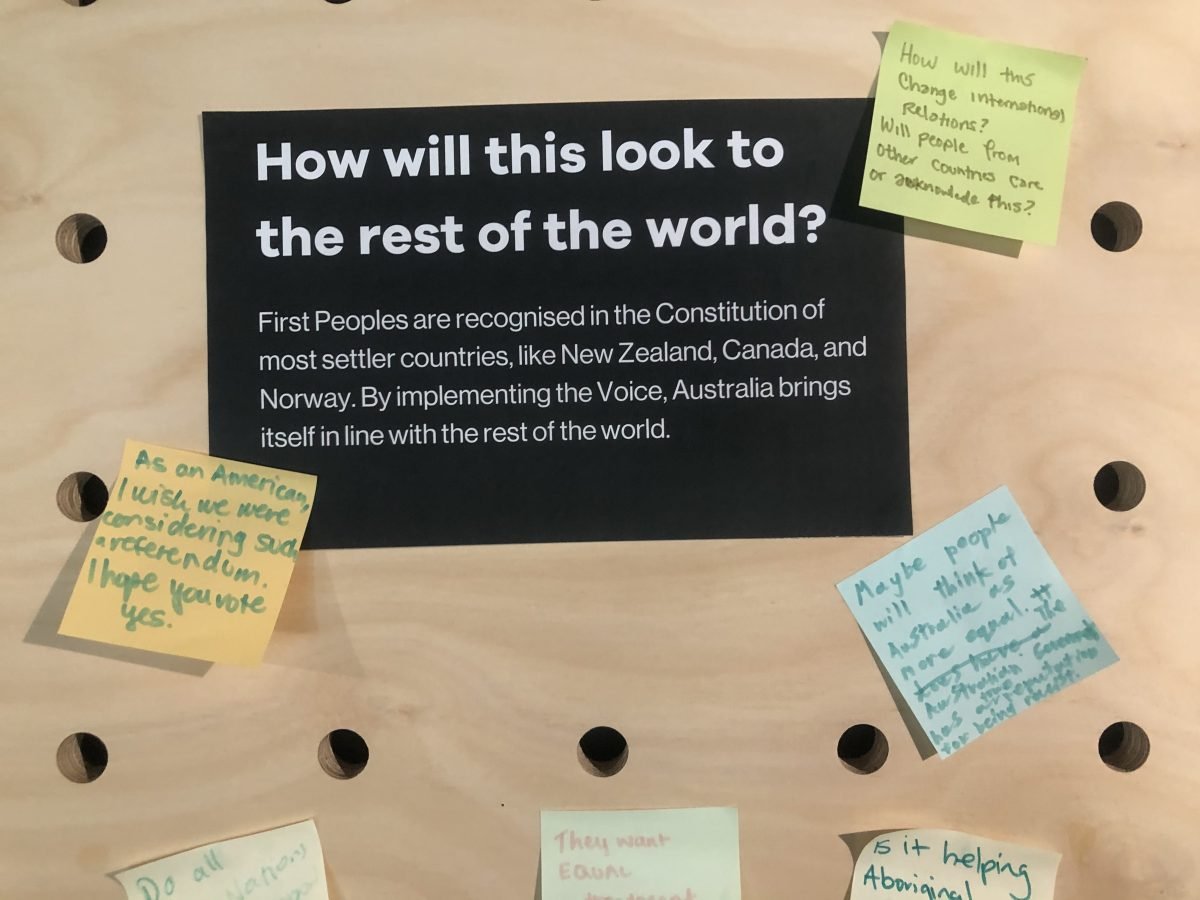 A lot of the insights we gathered into how visitors were responding to the pop-up was through conversations with Moderators, MOD.'s gallery staff. For example one moderator notes "I chatted to a man and his maybe 5-year-old son recently in this space – they had never seen the map of Aboriginal Countries before, so this exhibition was their first time seeing that represented." Another visited mentioned that the pop-up is "pushing important conversations that can otherwise be ignored." and notes "there seems to be a lot of people unsure on what is going on and this is a good way to learn." Interestingly the space seemed to encourage listening, one visitor explained it best, "I was going to add a bunch of comments but just ended up enjoying reading what everyone else had to say."
Our impact, in numbers
MOD. welcomed over 15,000 visitors over the two months of this temporary exhibit. We spent time surveying visitors after their visit to the Open Lab to evaluate the Voice project itself. These surveys showed that after spending time in the exhibit, 91% of visitors learnt something new about the Voice. A great majority (81%) of people left feeling somewhat, very or extremely confident in assessing whether the information that they see about the Voice to Parliament is reliable. Visitors' familiarity with the Voice, its purpose and its goals before and after visiting also improved with initially 36% of surveyed people were not familiar with the Voice's purpose and goals before visiting. This halved after their visit. 
Additionally, we have written a set of articles about the Voice to Parliament and shared these online, reaching out to visitors from a distance. These articles all examine the Voice from different perspectives: one exploring how to spot bad-faith arguments, another ponders the Voice pop-up in more depth and the third thinks about what the future might hold. 
What's next?
With the Referendum date now set for 14 October, we're glad to have been able to play a small part in supporting our young adult visitors to gain a deeper understanding of the Voice to Parliament Referendum. We also know that it's not over yet, so what's next? We know that, as a museum, we hold a trusted role in society. We're always reminding ourselves of our Two-Way-Minded design principle, which focuses on embedding Aboriginal knowledge and understanding by providing space for curation, creation and interpretation within our exhibition programs.
In the gallery, we have provided additional resources at our front desk that visitors can take with them with some simple information about the Voice referendum. We're also currently displaying Shooting Star, a film celebrating 30 years since Gavin Wanganeen's Brownlow Medal that shares stories about Gavin's connection to his great grandfather Dick Davey.

We also want to keep engaging people in conversation online and are planning to continue answering questions about the Voice on social media. Keep your eyes out for this. 
And what about you? What will you do next? There's a whole host of information online, you can read more about the Voice here, as well as our past articles which can be found here, and attend your local Yes Walk next weekend, dates and locations can be found here.