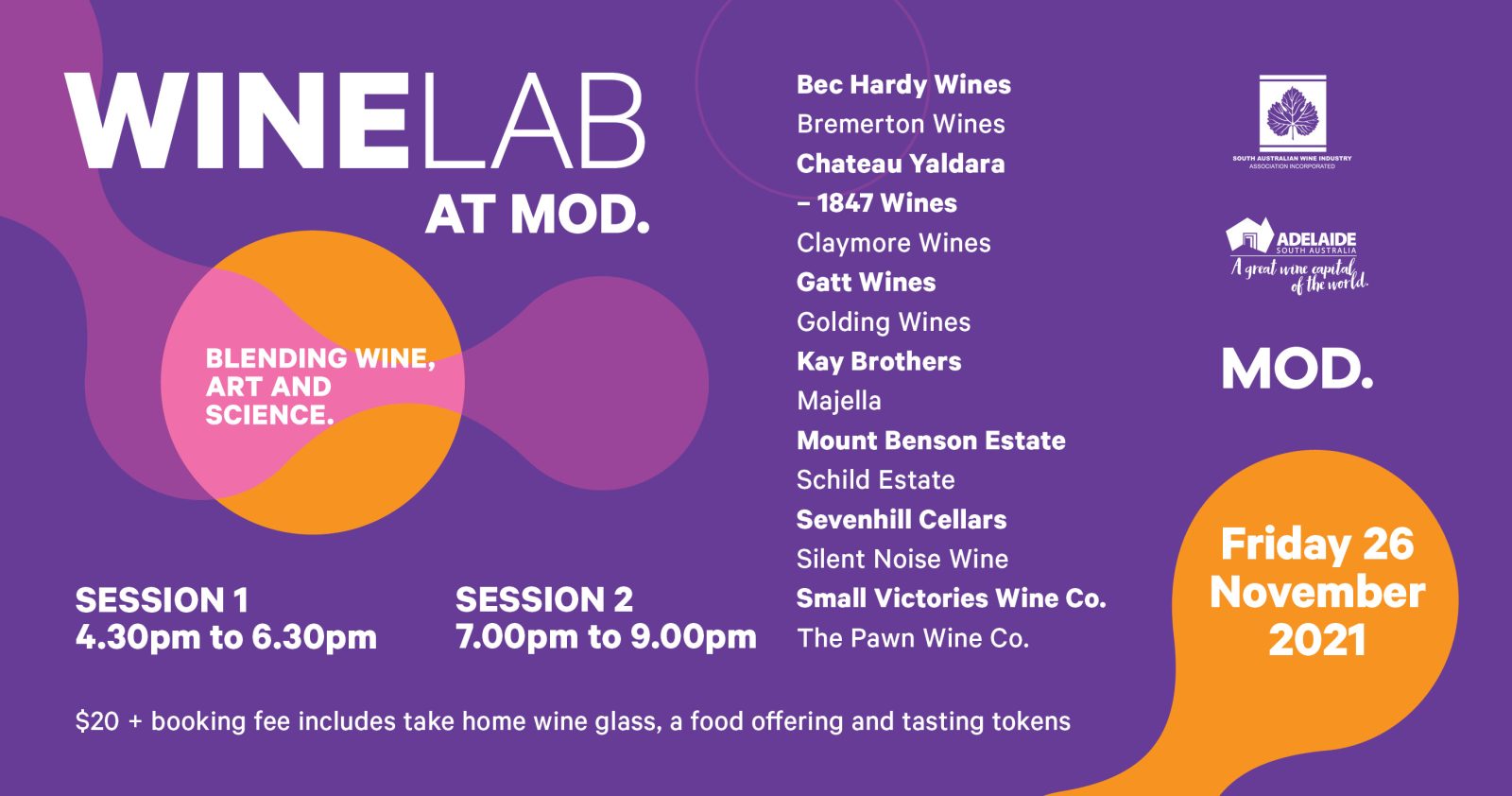 4:30 pm 9:00 pm
26 Nov 2021
Want Friday knock offs with a difference? MOD. will host 14 South Australian wineries on 26 November 2021 for WineLab, where wine, art and science will intersect to take you on a cross-sensory journey.
Immerse yourself the lights and sounds of the museum and sip wines from Bec Hardy Wines, Bremerton Wines, Chateau Yaldara – 1847 Wines, Claymore Wines, Gatt Wines, Golding Wines, Kay Brothers, Majella, Mount Benson Estate, Schild Estate, Sevenhill Cellars, Silent Noise Wine, Small Victories Wine Co. and The Pawn Wine Co., while listening to tunes selected by the wineries as an auditory wine pairing.
The event will also be the last chance for the public to view MOD.'s current exhibition IT'S COMPLICATED, an exhibition that pulls back the curtain on what seems simple to reveal just how complicated and complex the world can be.
To accompany the delicious drops will be tasty morsels served up by Food Lore. Food is included in the ticket price which is $20 + booking fee. This also gets you a Great Wine Capital wine glass to keep and two tasting tokens allocated to the wineries in attendance for you to redeem.
Once your tasting tokens have been exchanged, wine will be available for purchase directly from the wineries by the half-glass, glass or bottle, or packaged and taken home.
There are 2, two-hour sessions for this event, the first 4.30pm to 6.30pm and the second 7pm to 9pm. Tickets are limited so getting in early is advised to avoid missing out.
WineLab is presented by the South Australian Wine Industry Association (SAWIA), MOD. and Adelaide, a Great Wine Capital of the World, and celebrates 2021 the Year of South Australian Wine.