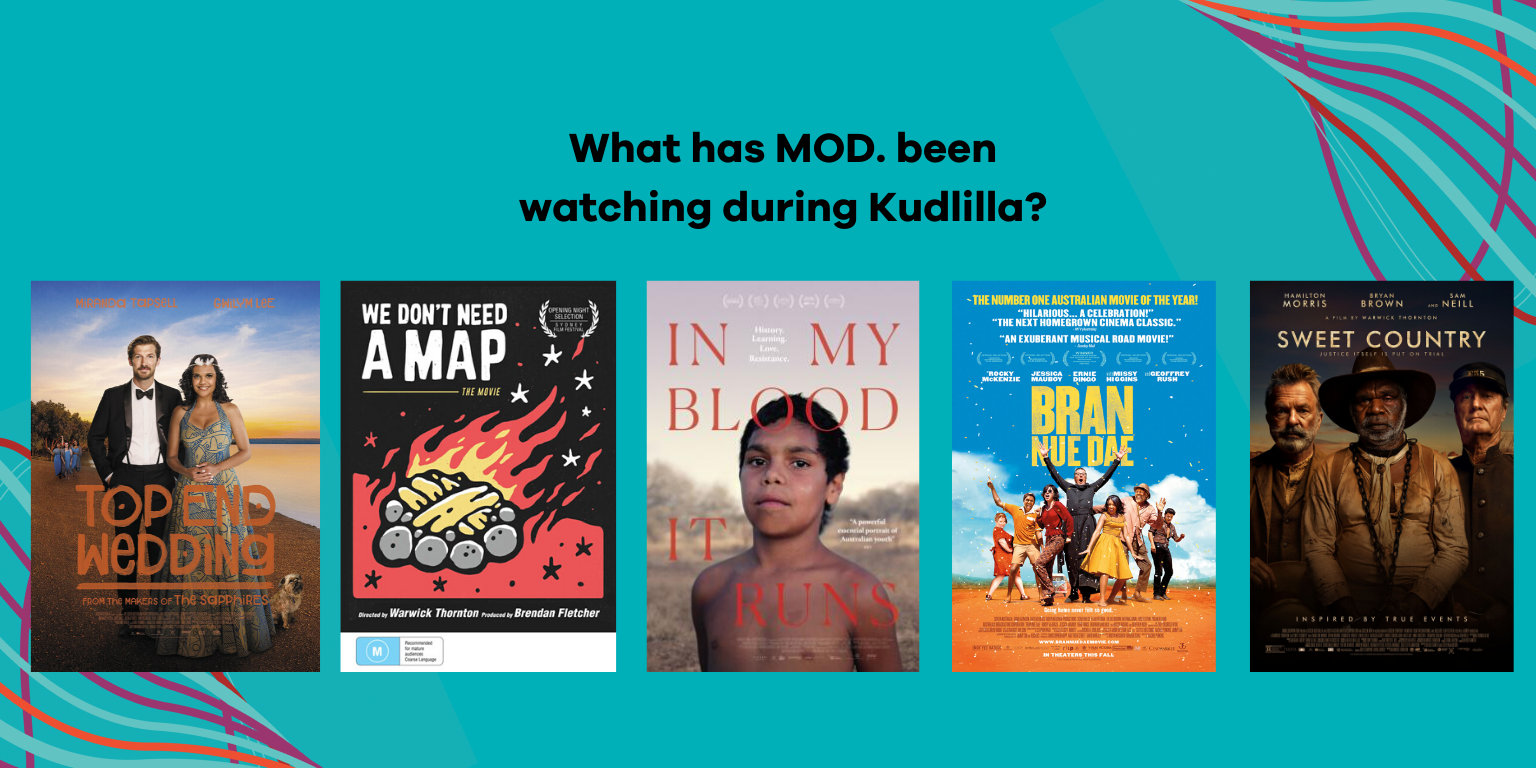 It's cold and rainy, a sign that the Kaurna season of Kudlilla has arrived. We're going to put out weekly lists of things to do while you're huddled inside. Next we're looking at movies! If you're not sure where to start here are some of the best things we've watched recently.
Kristin: I loved this because I do love romantic comedies and also it has scenes set in Adelaide as well as the NT. Characters to love and scenery to be swept away by.
Natalie: I FINALLY watched this last week and it was such a great movie. The scenery was stunning, but also it left me feeling emotional (though to be fair I cry a lot in movies).
Kiah: I have watched this movie many times over the years. The complex themes of love, war, anger and humour bring out so many emotions. And the Music is so great.
Kiah: Great cast! This movie is funny, musical and shines light on issues around death in custody and alcohol abuse. The landscape is just visually stunning, the characters are amazing and hilarious, and it's just such a feel good movie.
Natalie: This movie is full of joy, it's the perfect feel good funny movie to watch. I went to see this at the movies when I was extremely jet lagged and DIDN'T fall asleep — a real testament to what a great movie it is.
Hen: This was fantastic, and there are some post-viewing questions at this link for discussing afterwards here.
Becci: I have watched and strongly recommend, along with the discussion prompts, and checking out some of the video extras. It's on iView for 2 weeks.
The Hawke Centre is holding a panel in August considering the issues explored in the film through discussion on the rights of Aboriginal children in relation to criminality, Australian and International laws, and hearing Aboriginal children speak.
Dearna: Loved this short series which documents the stories of three First Nations families from South Australia. As well as showcasing  the artistic talents which exist and continue to flourish within our communities, the project also provided an opportunity to engage with emerging Aboriginal filmmakers.
Becci: Warwick Thornton's film essay about the Southern Cross, both as a symbol of nationalism and its importance in Aboriginal culture. 
Kristin: It's so well put together — enlightening, critical and warm.
Becci: Warwick Thornton's award-winning Indigenous Western. Not easy to watch, but I'd say easier than his early film, Samson & Delilah. Great story-telling.
Becci: Documentary Series by Rachel Perkins. This should be required watching for all Australians.
***
Contributions to this edition of Kudlilla Recommendations by Kristin, Kiah, Natalie, Dearna, Hen, and Becci.