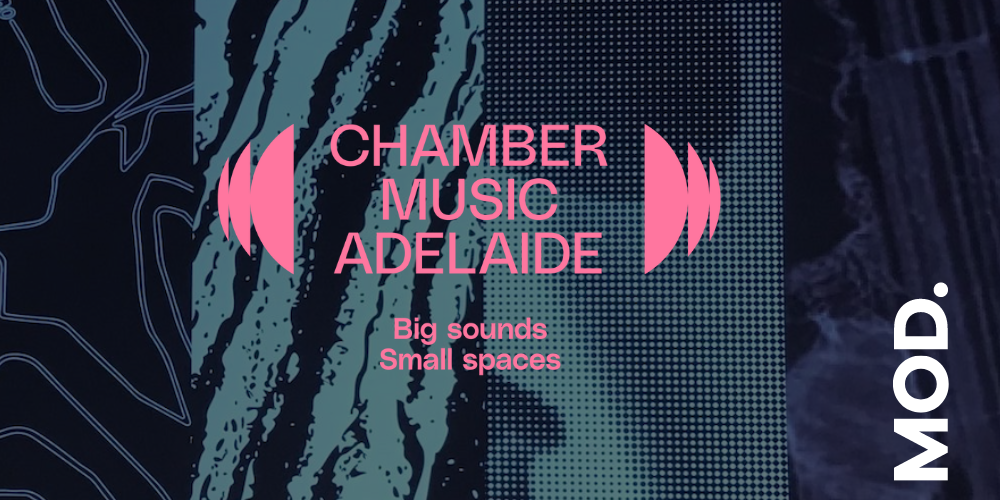 In partnership with Chamber Music Adelaide and MOD.
Written in response to MOD.'s INVISIBILITY exhibition, five South Australian composers will take you on a musical journey within MOD. where we time travel underground, explore the algorithms of human experience and slow down to notice the importance of the land around us.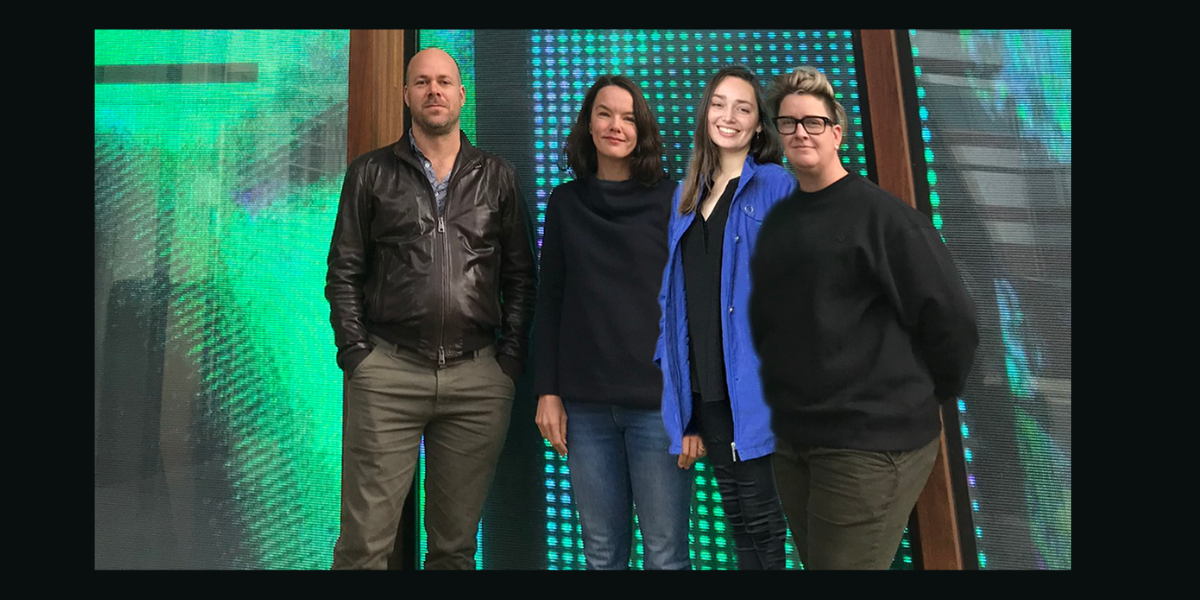 Between the Binary by Belinda Gehlert
Binary: Being in a state of one of two mutually exclusive conditions such as on or off, present or absent, male or female. 0 or 1.
Our society is driven by binary. Our data is distilled into 0's and 1's and we are often asked to tick a box or press a button…this one ore that one?
But what if you don't feel 'mutually exclusively' one way or the other?
Can you be on and also off?
I sometimes feel present but somehow absent, I don't really feel male or female, Does that mean I am invisible? Does that mean I don't really exist in a binary world? Am I neither a 0 or a 1?
What is in-between these 0's and 1's?
Can we find a way to live peacefully and happily in the invisible space between the 0's and 1's?
This is the theme that I will explore in my string quartet "Between the Binary". I will draw inspiration from the poem that was generated by the Nina Rajics Mirror Ritual exhibit at MOD as part of the Invisbility exhibition and The Mary Oliver poem Have You Ever Tried to Enter the Long Black Branches?
The Mirror Ritual purported to generate a poem exclusively for me using bio feedback. Biometric hardware and software lurking behind a soft round mirror, guessed my mood. As I stared at my own face, for what seemed like an age, the mirror generated a poem exclusively for me, about me.
The poem appeared softly, like a mystical prediction in a crystal ball. The process is hidden and unknown, who is the mystic soothsayer behind the mirror concocting a brew made with zeros and ones? The ritual makes me want to believe what I see. I want to see myself in the mirror, collect answers to the unknown, see my face in the fog. The mirror speaks to me but is it me or is it just an image made of zeros and ones? As I sit and read and stare at my face, I fill in the divide and find myself in the non-binary.
Have You Ever Tried to Enter the Long Black Branches? by Mary Oliver, written organically, by human hand, speaks to me like it is written specifically for me about me and is a reflection of my mood. I look and find myself between the words. In both poems I find myself, search to find the human, even if I am hidden, invisible. I can see the reflection of myself between the letters, between the notes and in the  spaces between the 1's and 0's.
About Belinda
Belinda is a violinist, performer and composer who writes for chamber ensembles, orchestras, theatre, dance, live art, and screen. Her professional creative practice as a musician spans two decades.Belinda was a member of the Australian Art Music and Ruby Award winning, Adelaide based Zephyr Quartet for 15 years and with trim has performed throughout Australia, The Philippines, England, Ireland, Germany, Scotland and The Netherlands.
Belinda has composed music for Brink Productions, Patch Theatre Company, The Adelaide Symphony Orchestra, Restless Dance Theatre, Vitalstatistix, State Theatre Company of South Australia, The Firm New Music and was the 2020 COMA (Contemporary Original Music Adelaide) Composer in Residence. Her compositions receive regular airplay on ABC Classic.
Composition inspired by Mirror Ritual.
Jesse Budel
Work for string quartet, exploring the vocalisations of local critically endangered species through the lenses of acoustic ecology, ecoacoustics and bioacoustics, and spectralist compositional techniques.
Drawing on my background and expertise in acoustic ecology, soundscape composition and ecological sound art, the piece will explore the invisibility of South Australian endangered species. Given low populations, such species are often difficult to locate through visual surveys, but possible to detect sonically through listening for their calls.
Collating the calls of these species through existing databases each call will be explored for its acoustic and timbral properties through spectral analysis techniques. Organising the overall form of the work, I will investigate various environmental datasets that correlate with biodiversity loss and ecological degradation and utilise this information to provide the piece's structure, in effect employing data sonification techniques.
These three concerns of the work – the calls of endangered species, the spectral exploration of complex acoustic/timbral qualities, and the use of data sonification to aurally convey the influence of large-scale environmental forces on local ecosystems – respond uniquely to the theme of Invisibility, and more broadly to the Arts-Science purview of MOD's curation.
About Jesse
Jesse Budel is a composer-performer and sound artist, based between metropolitan and regional SA. His works are for diverse media and spaces, ranging from acoustic concert instrumentation through to installation works, and have been performed by the Australian String Quartet (AUS), Soundstream Ensemble, (AUS), Zephyr Quartet (AUS), Elder Conservatorium Wind Orchestra (AUS) and Corvus Ensemble (Alaska, USA). He has been an artist-in-residence at Adelaide City Library and Sir Robert Helpmann Theatre in Mount Gambier (SA, AUS), as well as at Arts Letters and Numbers (Upstate NY, USA).
In the wider community, he is an ongoing contributor to the arts, culture, and youth sectors, being recognised for his efforts with a SA Regional Awards Murraylands-Riverlands Youth Award in 2013, and as a Finalist for the Frank Ford Memorial Young Achiever Award at Arts South Australia's 2020 Ruby Awards. In recent years, he has developed various community arts installation sites, including the Murray Bridge Piano Sanctuary, Featherstone Sound Space and Strata.
Composition inspired by Time Reveals the Unseen.
Karrawirra Parri / the river flows through by Hilary Kleinig
Karrawirra Parri / the river flows through is inspired by MOD's Invisibility exhibition Reflect by the Unbound Collective. Reflect 'considers what it means to be present in shadows of absence, silence, and invisibility. This work reflects the shimmering light and shade of a long story, attending to traces of beauty and love in deep lessons from Country'.
Walking along the Karrawirra Parri / River Torrens is something I do almost every day. It is something that centres me and brings me much peace. My piece 'Karrawirra Parri / the river flows through', as well as being inspired by Reflect, is a tribute to this river that has supported life and the sharing of songs and stories for millennia. My piece reflects the changes of the river that I have seen, from bone dry, to gentle flow, to flood. It also meditates of the paradox of a river through time: that it is at once ephemeral with water flowing through it once then out to the ocean, as well as timeless with its banks supporting it, holding it steady and grounded.
About Hilary
Hilary Kleinig is an Tarntanya/Adelaide-based multidisciplinary musician – cellist, composer, curator, producer and educator. Imbued with a sense of wonder and curiosity, her artistic practice centres on care, collaboration and connection, of and with people, place and planet. Hilary enjoys playing cello in live and recorded performance, working as a freelance musician for leading ensembles, orchestras and contemporary music & jazz artists.
For over 20 years Hilary was cellist with and Artistic Director of Zephyr Quartet – 'Arguably Australia's most lateral thinking and inventive ensemble' (Music Australia) – an award-winning, bold and adventurous string quartet, delighting in the exploration of diverse music and forging dynamic collaborations.
Hilary's compositions have been commissioned and performed by ensembles such as the Muses Trio, Clocked Out, Adelaide Symphony Orchestra, Adelaide Chamber Singers and the Adelaide Youth Orchestras. She has been a lead composer in Adelaide Symphony Orchestra's collaborative composition projects – Floods of Fire and Silos and Symphonies – working with community groups to collaboratively compose a piece for the orchestra.
Recently she was selected as the South Australian composer for the Summers Night Project, which involved the commission, workshop, recording and performance of a new work performed by members of Tura New Music, Decibel Ensemble and Soundstream New Music in 2022.
Composition inspired by Reflect: The Light and Shade of a Long Story.
Parlando Spettrale by Luke Altmann
For performance in the installation Shadows of Light as part of the INVISIBILITY exhibition at the Museum of Discovery.Parlando Spettrale is in three parts of three minutes each. At the heart of Parlando Spettrale lie unheard words whose outlines are cast about our senses, haunting a future brief and near, as the musicians interact with the shimmering silhouettes of Shadows of Light.
Texts for each part will be chosen to illuminate inaudibility being to sound what invisibility is to sight.
I Heartfelt confessions falling on deaf ears
II Reason muffled by powerful hands
III The unsayable uttered in bitter underbreath
Exploratory musical techniques of alien effect will be combined with aching harmonic simplicity. At times the members of the string trio (double bass, cello, violin) will be required to speak quietly through their harmonicas. In other instances meter will be discarded in favour of the natural rhythmic patterns of speech on heavily muted strings. At no point will words be heard or seen – although they are a critical part of the performance, they will remain invisible. The outline of language may always be made out, and an astute and attentive listener will grasp meaning, and the shape of words, perhaps even recognising them…
About Luke
Luke Altmann is a composer, broadcaster, and record label owner living and working in Port Adelaide. In 2005 he transformed Adelaide's inner-city art studio De la Catessen into an experimental music venue where he presented over 200 new music events in four years, featuring performances by composers and musicians from around the world. April of 2020 he relaunched De la Catessen as a record label and has rapidly released seven physical albums of music by Adelaide composers, with six more scheduled for release by the end of 2022.
In 2000, Luke co-founded new music broadcasts at Radio Adelaide with a special emphasis on the work of South Australian composers, which he continued to produce and present until 2012. He currently presents classical music programmes to a national audience on ABC Classic. Altmann's reputation as a composer rests on two decades of regular appearances on Adelaide's chamber music concert programmes. A member of new music organisation The Firm since 2005, his works have also been presented by ANAM, Musica Viva, and ABC Classic. Portrait albums of his solo piano music and chamber music have been recorded by Konstantin Shamray and Benaud Trio. He lives in Port Adelaide with his partner and their two sons.
Composition inspired by Shadows of Light.
Georgina Bowden (Emerging Composer)
Beautiful, intricate microstructures relating to vastness of deep time Inspired by 'Underground'. My proposed score is for two flutes and two double basses, to represent these two vastly different scales. Micro-melodies in agile flutes alongside subtle underscoring bass techniques will represent the beautiful intricacy of microstructures, "like a tiny universe". The double basses will have an end section by themselves – 'zooming out' from the micro-melodies of the flutes to form them into something drone-based, vast, yet very slowly shifting, to represent deep time.
About Georgina
I'm an English/Welsh-born composer and artist, and since moving here in 2020 my inspiration has been vivid colours, sounds and ideas relating to Australian nature. My multidisciplinary creative work crosses between music, art and architecture. I have a Master's of Music in Composition from Trinity Laban Conservatoire, and a Master's of Architecture from Cardiff University.
My works have been performed in venues across the UK and in Czech contemporary music festival Ostrava Days. I am looking forward to multiple premieres of new works in Australia in 2022. In my work I am interested in the transformation of art to music, such as Yaban Ariları, an art score for viola released on 'Into The Ocean' (contemporary music label). I have also worked the other way around, creating art relating to music, such my moving underwater artwork response to Laurence Crane's piece 'See Our Lake' for the Festival of Laurence Crane at Guildhall, London.
Additional recent creative work has included creating and presenting Resonance FM soundwalking programme 'Palimpsest', and presenting contemporary music programmes for 5mbs. I tutored Architecture at the University of South Australia in 2021. Previously, I was a critic at Coventry University for a Soundwalking module in 2019. Currently, I teach piano and composition at Highgate School.
Composition inspired by Underground. 
Come along to the Chamber Music Adelaides On The Terrace Event hosted at MOD. more details to come.