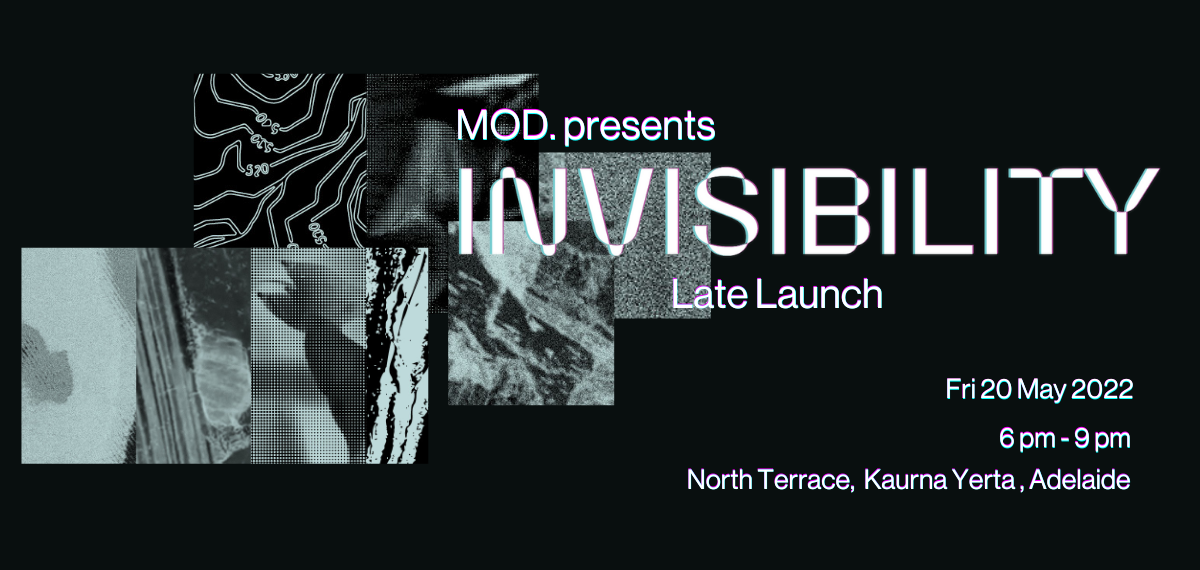 6:00 pm 9:00 pm
20 May 2022
Look, we know that you know.
We didn't have a launch party for our exhibition INVISIBILITY. But that's what Late Launch parties are for.
Come along and encounter unique experiences all in line with invisibility. Immerse yourself in the exhibition, food that is not as it appears, magicians who control our attention and render things invisible, glow in the dark drinks and invisible sensory experiences.
Featuring DJ cazeauxoslo providing tunes all night! Magician, Matt Brandwood, one of Australia's top working magicians, Techspace expanding the mind using different senses to explore a physical environment, 48 flavours with unique ice-cream flavours, Foodlore catering food and drink, Miracle fruit confusing our taste buds and Gomersal Wines providing glow in the dark G&T's.
We suggest coming early as doors will be open until we've reached full capacity and you really will not want to miss out.
Drinks will be available for purchase from Foodlore
About MOD's. 2022 exhibition INVISIBILITY 
INVISIBILITY is everywhere. It's the people we don't notice, the environmental changes we can't see, and the algorithms working hard behind the scenes. What becomes visible when we start paying attention?
In MOD.'s new exhibition, we're shining a spotlight on the unseen to help us better understand the world around us and our place in it.
Join us as we time travel underground, delve into the tech monopolies controlling our lives, and slow down to notice the importance of the land around us.
INVISIBILITY opens on Tuesday 1 February and runs through to late November 2022.
And just because our event finishes at 9pm doesn't mean the party has to stop. Head on to Lion Arts Factory (No Scrubs 90s + Early 00s) night and show your MOD. Event ticket to gain free entry from 11pm.