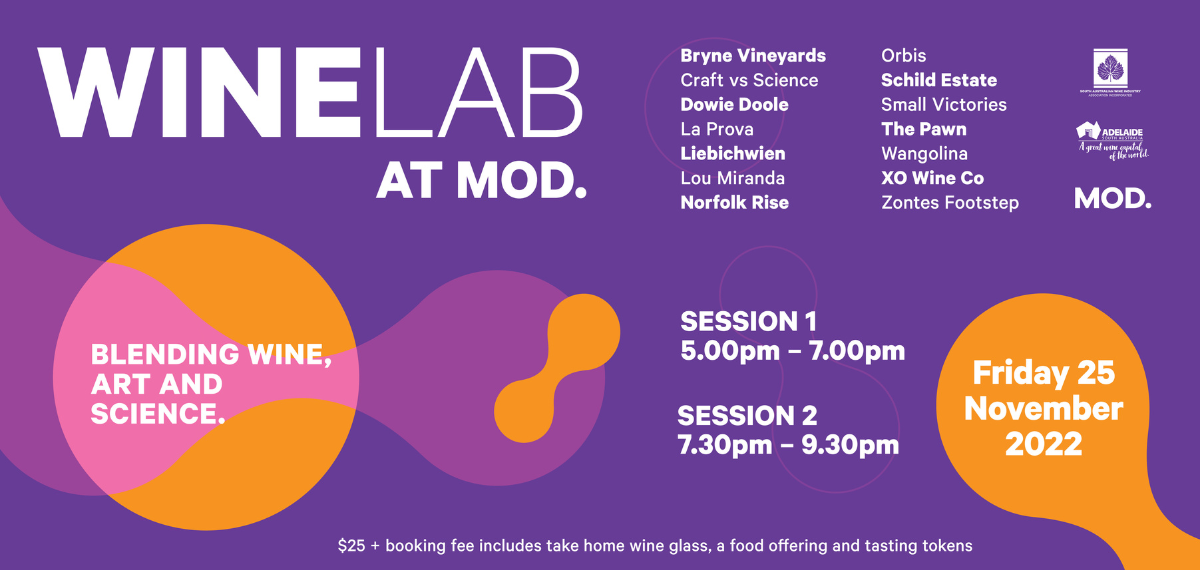 5:00 pm 9:30 pm
25 Nov 2022
Want Friday knock offs with a difference? UniSA's MOD. will host 14 South Australian wineries on 25 November 2022 for WineLab, where wine, art and science will intersect to take you on a journey of invisibility.
Immerse yourself in the lights and sounds of the museum while sipping wines from Byrne Vineyards, Craft vs Science, Dowie Doole, La Prova, Liebichwien, Lou Miranda, Norfolk Rise, Orbis Wines, Schild Estate, Small Victories Wine Co, The Pawn Wine Co., Wangolina, XO Wine Co and Zonte's Footstep.
The event will also be the last chance for the public to view MOD.'s current exhibition INVISIBILITY, an exhibition shining a spotlight on the unseen to help us better understand the world around us and our place in it.
To accompany the delicious drops will be tasty cheese boxes served up by Food Lore. An individual cheese box is included in the ticket price which is $25 + GST/booking fee. This also gets you a Great Wine Capital wine glass to keep and two tasting tokens allocated to the wineries in attendance for you to redeem.
Once your tasting tokens have been exchanged, wine will be available for purchase directly from the wineries by the half-glass, glass or bottle, or packaged and taken home.
There are 2, two-hour sessions for this event, the first 5pm to 7pm and the second 7.30pm to 9.30pm. Tickets are limited so getting in early is advised to avoid missing out.
WineLab is presented by the South Australian Wine Industry Association (SAWIA), MOD. and Adelaide a Great Wine Capital of the World.