Exhibition
Augmented Relief
How do defence industries apply technologies for good?
Visit
Interested in working in different realities?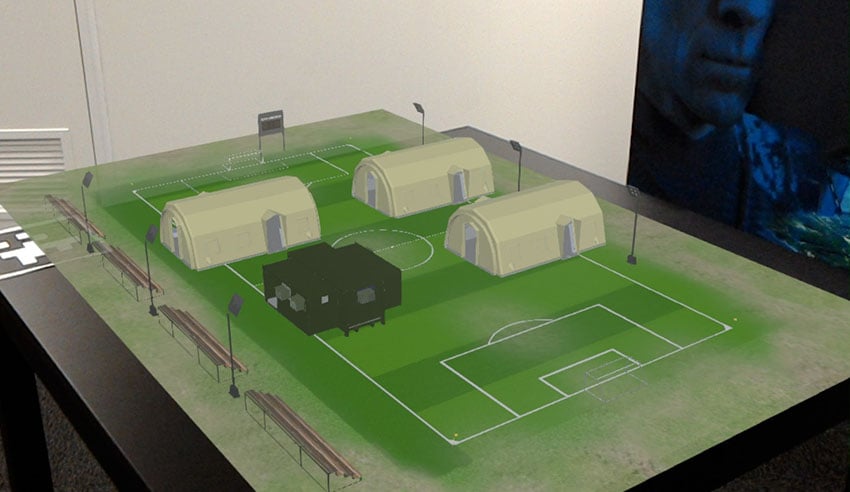 Designing and building deployable field hospitals can be complicated. Trying to do this after a natural disaster is even harder.  
Using Microsoft's Hololens augmented reality technology, SAAB Australia are exploring new ways of responding to conflict and disaster situations with infrastructure that better suits the needs of those affected.
What is Augmented Reality?
Augmented reality (AR) is an interactive experience of the real-world whereby computer-generated sensory information, such as visual or auditory, is overlaid with the physical world in a way that is perceived as immersive. This process can aid in visualising building projects. For example, when developing infrastructure as part of a natural disaster relief effort, AR allows designers to experience the design and operation of a facility (e.g., a deployable field hospital) before physical completion. Computer-generated images of a field hospital layout can be superimposed into a real-life view of a disaster area before the physical infrastructure is in place. 
The AR experience at MOD. is aimed to increase visitors' understanding and appreciation of how AR technology can be used to create considered, and therefore more effective, responses to human suffering. In addition, viewing and interacting with the deployable field hospital allows visitors to discover layers of function and meaning, depending on which facility is explored during the experience.  
Please note: Augmented Relief is an augmented reality experience available for up to 6 visitors at a time, aged over 12 years only. Due to this restraint, there may be a short wait to enter the gallery and it will not be included in school groups tours, group tours, or paid bookings.
Special thanks: We are thrilled to be showcasing the AR capabilities of SAAB Australia in this exhibit, and would like to thank SAAB for their generous services and support.
Discover more
Explore
Credits
SAAB Australia

AR Programming