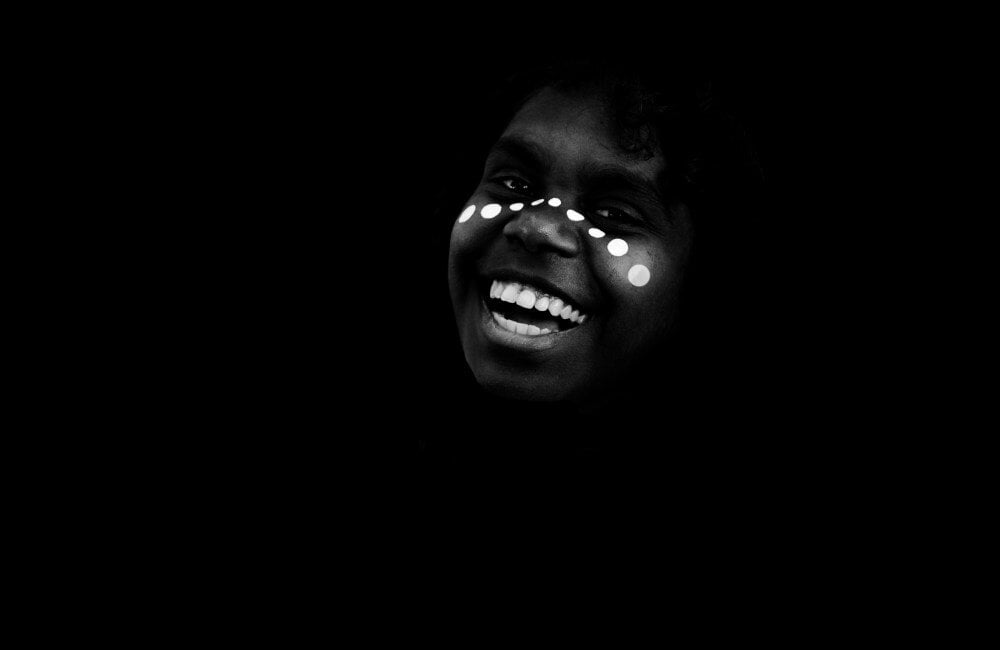 In Brief

Want More?

Accessible Resources
26 January. We're not sure when or how we should celebrate this day, or if we should at all.
On this date in 2020, Sparkke at the Whitmore commissioned these portraits to recognise the leadership of Aboriginal women. These women are fighting to preserve culture and promote social equality. It's the sort of celebration we can get behind.
***
This exhibit has been made possible by support from Sparkke, Professor Wayne Quilliam, Rebecca Richards, Nharla Photography and the South Australian Museum. Very special thanks to all of the portrait subjects.
Hear from all fourteen women on their work and their feelings surrounding 26 January.
Alexis West
Birri Gubba, Wakka Wakka and Kanak
Writer, poet, theatre maker, film maker, sometimes dancer, choreographer, producer, and First Nations Producer for Australia Day Council of South Australia, 2021
I am creating new works in community theatre with the Karrikarrinya Theatre Collective. In conjunction with Act Now Theatre and Flinders University, I recently created and delivered an Introduction to Theatre Pathway Program for First Nations peoples. In the past, I also very much enjoyed working with No Strings Attached Theatre of Disability and Kura Yerlo to share the voices and stories of First Nations people with disabilities.
As a First Nations woman, I am looked up to for leadership whether I like it or not. The choices I make determine whether I am a good leader. For me, if I live my truths with humility and learn from my mistakes then I am continuing in my path of good leadership.
For many of us, Australia/Invasion/Survival Day is a day of honouring and mourning the genocide, theft and rape of our peoples, languages, lands and waters. It can also be a day of celebrating our survival and ongoing living cultures.
Charlotte Dare
Adnyamathanha, Barngarla and Yankunytjatjara
Artist, radio broadcaster and South Australia's inaugural NAIDOC LGBTQI Award recipient 2019
I am proud of my work in the media which I started back in 2007. I am inspired by my family, and many of the brave black transgender women who went before me who have helped make my life better. I think that changing the date of Australia Day is important, but we need a treaty before we change the date of Australia Day. I'm focused more on changing minds and Australia's culture than I am on changing the date. Changing minds really starts with educating and investing in our young people. The youth are our future and we need to educate and nurture them.
Aunty Ellen Trevorrow
Ngarrindjeri
Cultural Basket Weaver, artist, and community advocate
I am most proud of all my families and friends. Being with my kids and grandchildren, and seeing how they continue to preserve and pass on the Ngarrindjeri weaving and culture, is the driving force of my life. Through my weaving practices and storytelling, I have continued my late husband's unfinished business of helping our community. I use my cultural weaving practices to connect with people and to promote reconciliation. I am saddened the loss of many Elders in such a short time. I have always supported the Survival Day rallies in Adelaide by yarning and weaving with those in attendance. As a multi-cultural nation, let us work together for a better life for all. 
Frances Ingkatji
Pitjantjatjara
Artist and community advocate
I work in the arts in Ernabella. I like to paint, and I've taken over my father's work and I now tell his stories. I also sing and dance the Seven Sisters Story which is my mother's story. I have also danced the Seven Sisters story in Canberra and attended a planning meeting there to take this story to Paris in 2021. I sing at the church and sometimes I do Inma (ceremony) with all the other women in our community. I am the mother of two sons and I like to be a good role model for them and the other young people in our APY community. I encourage them all to live a good and healthy life.
When I was twelve years old, I left my community and came to Adelaide where I spent a term at Ingle Farm High School and then a year at Woodville High School. This experience really helped me with speaking and writing the English language which is a second language to my Pitjantjatjara. When I am visiting Adelaide, I work in the paint studios of the APY Gallery on Light Square. I am also learning Tjanpi weaving from my cousin Rene Kulitja and my sister Nyumiti Ingkatji.
Gemma Trueman
Pitjantjatjara
Actor, model, dancer and singer 
The achievement I'm most proud of is being able to travel to Cambodia to help out in a village and help build teachers' accommodation on a service project. I am also proud that I was able to travel to the Torres Strait and learn dances and weaving and learn how to prepare food as well. 
Aboriginal women's leadership is like-minded women who are strong in their culture who are helping to contribute to communities. Which I think is amazing! What I think of Australia Day is, if you could imagine that you lived in a shared house with other people, how you would feel if your housemate had a major rager on the day a loved one died… and all you feel like doing is mourning.
Gina Rings
Kukatha and Mirning
Dancer, choreographer, arts worker, and emerging filmmaker
I see bringing people together, passing on skills, and lifting other artists up as my sacred and ever evolving calling. To me, Aboriginal women's leadership means understanding of what it is like to be an Aboriginal woman and our experiences in this country. Supporting, listening and guiding other Aboriginal women is leadership.   
Australia Day is a day of mourning and the rest of Australia needs to know and understand this before they celebrate on the land that was taken from us. Our ancestors' blood is still in the soil so why celebrate when we can make this country a better place by truth telling and educating Australia on Aboriginal cultures. By doing this you don't lose your history; you gain our history. 
Dr Jenni Caruso
Eastern Arrernte
Lecturer in Aboriginal Histories, University of Adelaide
I am a member of the Stolen Generations. Therefore, the thing that I am most proud of is that my children know themselves as Aboriginal people and so will my grandchildren. I am proud of myself in that I never lost my pride in my Aboriginality despite being raised under a program of assimilation. Working through levels of disadvantage is something that all Aboriginal women must contend with every day. Sometimes leadership is just putting food on the table or struggling to get your kids to school when they don't want to go due to racism. For a woman to stand up and just to be here after surviving the Stolen Generation is leadership. Aboriginal women's leadership is reflected in every single Aboriginal woman's face. Some are just able to articulate the struggle better.
I think that May 6th would be a better day for Australia Day as it is the day that the underpinnings of the White Australia policy was overturned. This should be the day which Australia can celebrate whilst including everyone.
Karina Lester
Yankunytjatjara
Mobile Language Team Co-manager, Aboriginal Language Worker, and member of the International Campaign to Abolish Nuclear Weapons
The only reason I can do what I do today is because the women and elders before me led by example. Women are strong leaders in languages, law and culture. We are caretakers and nurturers, so we need to be smart to be able to move between two worlds. We women need to take on these roles to show that we care. And not just caring for our children or generation but also our non-Aboriginal community and to help non-Aboriginal people to learn to appreciate our culture. Australia Day is not a day that Aboriginal people want to be celebrating. Moving the date is important as it is not a day that we want to be reminded about what happened to our people. 
Kirstie Parker
Yuwallarai
Writer and community advocate
I feel lucky and proud to have helped in amplifying the voices of Aboriginal and Torres Strait Islander people, whether through journalism; high level advocacy; developing better, more just policies; and, more recently, as a creative writer. I'm also proud of nurturing and contributing to the wellbeing of my extended family who live every day impacted by historical and ongoing racism and injustice.
Leadership means doing whatever we can – wherever and whenever – to help ensure our families and communities survive and thrive; that we're respected as the First Australians. Australia Day, in my personal opinion, is not the day for us to come together. It marks the beginning of the terrible treatment of Aboriginal people. We need to change the date in order to allow Aboriginal people to come to the party. Opposition to changing the date usually comes from a lack of education on what the day commemorates. Australia Day has only been celebrated for the last forty years or so. I think we need to celebrate Australia with a day that doesn't have so much baggage so that we can enjoy it.
Melissa Thomson
Yankunytjatjara
Writer and community health advocate
I am a strong and proud woman from the APY Lands and my culture is very important to me. I work hard for my community and my people. A good leader is someone who listens and learns and then uses that knowledge to teach and guide others especially our young people. I want to be a good role model to our young people and show them how and what they can achieve in life.
I like the way people are now coming together on Australia Day to acknowledge the local Kaurna and Narungga peoples, and to involve Aboriginal people from the APY Lands in order to show the strength and diversity of our Aboriginal cultures.
Rene Wanuny Kulitja
Pitjantjatjara
Artist, Director of Maruku Arts and Crafts, and a director of the Ngaanyatjarra, Pitjantjatjara and Yankunytjatjara Women's Council, and a director of the Uluru Katatjuta National Park. 
I'm a strong woman and role model for our young people. I listen to the wisdom of our old people, and work with rangers and scientists, to look after our culture and land. Earning the trust of others is important to me and makes it so that people are happy to work with me. I work with the Women's Council to support our people to communicate better and to live a good life. I teach and accompany girls in their performances in many places, most recently at the Sydney Opera House and the 'Closing the Climb' ceremony at Uluru. 
I feel sad on Australia Day because people forget the terrible things that have happened to our people in the past and are continuing to happen to our people today. We all need to work together to guide and support our young people because they will be the caretakers of our culture and our future. 
Rikki Milera-Wilson
Adnyamathanha and Narungga
Fitness and wellbeing business owner, dancer, and graduate of the Indigenous marathon project.
Aboriginal women's leadership means backing your words up by having a strong connection to your community, country, culture and self.
It's about altruism and ensuring that we carry ourselves with the same core values as the strong empowering female leaders before us. To lead is not to be ahead or above anyone else you're leading. It's to understand and to lead alongside. My desire is to have a positive impact on anyone who dares to dream big. 
I think the date that Australia Day sits on is insensitive and irresponsible. For this country to heal and move forward we need to have the hard conversations around January 26. The history behind that day is always going to make people uncomfortable but that's where growth comes from. It's an opportunity for this country to change the way we live with each other. This country has so much to be proud of, the oldest living culture in the world, the oldest living keepers of knowledge. There's a beautiful diversity to this country and it starts from the very core; and that's for the First Nations peoples to lead, to educate and for non-Aboriginal people to sit and listen and learn. Learn about our ways and how we maintained and thrived for 65,000 years and counting! Be part of our culture, innovation and protection of these lands.
Rosemary Wanganeen
Kaurna and Wirringu 
Researcher and Griefologist, specialising in grief from a humanitarian perspective and centred on Aboriginal loss and grief 
Rosemary's response to come
Discover More
Read:
Listen:
Audio description:
Credits
Rebecca Richards

Curator

Wayne Quilliam

Photographer

Nharla Photography

Photographer (Rosemary Wanganeen)

Walls that Talk

Printing